Sword Coast Legends Gives You An Authentic D&D Experience Without The Table Madeline Ricchiuto writes,
The latest attempt at a PC version of Dungeons and Dragons is n-Pace and Wizards of the Coast's Sword Coast Legends, which allows for players to take on a dungeon in a four-person team, or to play as a Dungeon Master. The DM mode allows you to create your own quest lines and characters as well as customize a pre-existing dungeon or to build your own. DMs can alter enemy monsters appearances, skillsets, and even take control of them. Similarly, the DM is capable of adding traps or monsters in real time as the party moves through. However, the DM will be rated at the end of the dungeon, which makes it a bit more imperative for the DM to cooperate with the party rather than treat them as an enemy. Voice-over IP allows for some LARPing capabilities with the dialogue, as well as the classic DM hint-dropping. The combat plays very much like an updated Dragon Age: Origins, as it was built by the same team. So sticking together as a party is a definite advantage, as you can revive fallen teammates by standing near them. Friendly fire was in play for the hands-on demo, though wether it is optional or not remains to be seen. The Dragon Age: Origins team was also involved in the creation of the single player mode.
Players can choose from 5 different races and six classes to create their characters. There is a single player mode which allows for pause-time tactics, but there is no pause in the DM multiplayer, which helps ratchet up the tension for both DMs and players. The Sword Coast Legends team describes it as 4-with-1 because it really is a cooperative experience.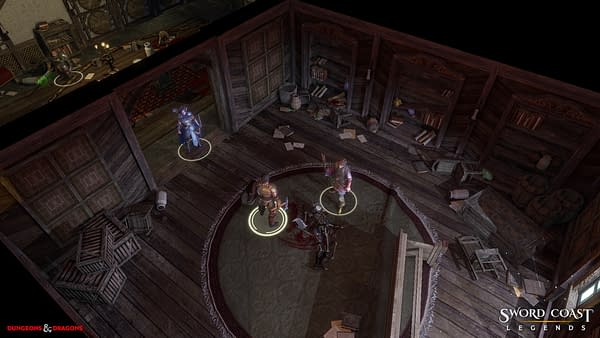 Sword Coast Legends is set in the Dungeons and Dragon's Forgotten Realms universe, including the city of Luskan. Sword Coast will release later this year for on Steam for Windows, Apple, Linux. There will be a later release for PS4 and Xbox One.
There are multiple levels of pre-order packs available, as well as the Standard and Campaign editions. The Standard edition gives you a single download key, while the campaign edition gives you four additional keys to give to friends.
Sword Coast Legends is based on the 5th edition ruleset and includes all your favorite D&D lore.