American Gods: Jesse Alexander New Showrunner; Season 2 in 2019
After a contentious few months that saw Bryan Fuller and Michael Green leaving the series over presumed budget issues with production company Fremantle, The Hollywood Reporter is reporting exclusively that Hannibal's Jesse Alexander will be assuming showrunner responsibilities alongside author and executive producer Neil Gaiman on Starz's American Gods. Aside from Hannibal, Alexander has also worked with Fuller on Star Trek: Discovery and Heroes; as well as ABC's Alias and Lost.
Alexander is replacing Fuller and Green, who oversaw the development and first season of the Starz drama before being fired in November after battles with Fremantle over the show's expanding budget needs. Speaking with reporters in January, Starz CEO Chris Albrecht stated that Fuller and Green were neither fired nor did they quit and that the duo would still be involved with American Gods "as much as they can be," though expectations are that the duo will have very little to do with the series other than on-screen credits.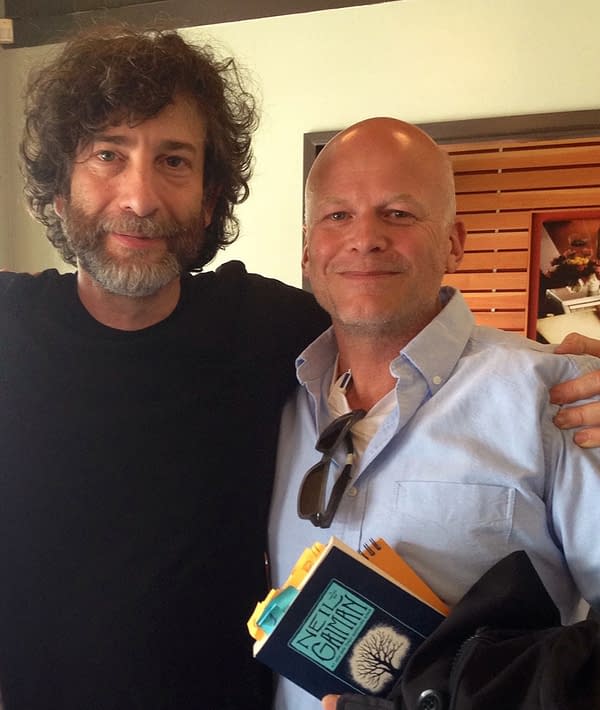 Speaking with The Hollywood Reporter, Gaiman has this to say about the hiring of Alexander:
"I'm thrilled that Jesse is [the] showrunner. He loves and understands the book, he loves and understands the TV series and he's dedicated to making future seasons of American Gods as good and as beautiful and as unique as they can be. Shadow's journey is going to take him, and Mr. Wednesday, and the New Gods and the Old, to some very strange places. I'm glad that we, and the cast and crew, will have Jesse shepherding us on the way." In The Hollywood Reporter's reporting, some very interesting highlights also came up from their sources (so keep that in mind when reading:
● Fuller and Green's six completed scripts are expected to be scrapped, and restarted from scratch with Alexander.
● Gaiman wasn't happy with the direction that Fuller and Green were attempting to take the series, feeling they were moving too far away from the source material; and that Gaiman wanted a showrunner who would steer the series back to the novel (and away from the Season 1 finale).
● American Gods' first season was estimated to have run $30 million over budget; and that multiple rewrites with Fuller scrapping some episodes and reworking others resulted in the Season 1 episode count dropping from ten episodes to eight episodes.
● Fremantle set a $9 million/episode budget for the second season, with Fuller and Green asking for more to produce ten-episode season.
● With the delay in securing a new showrunner and to keep budgets in line, American Gods is expected to have its second season episode count reduced; and the previously undisclosed January 2019 return date has also become increasingly unlikely.