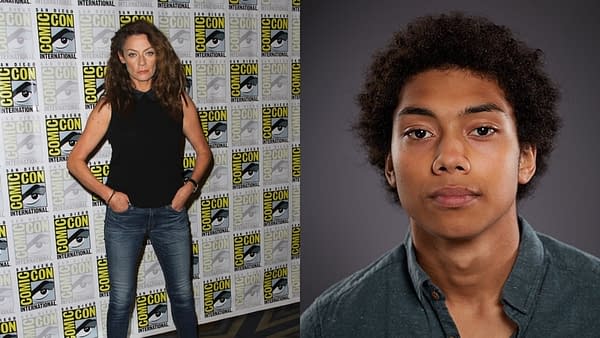 Netflix has conjured up two new cast members for their upcoming Sabrina the Teenage Witch series, with Doctor Who's Michelle Gomez and newcomer Chance Perdomo joining as series regulars. The one-hour drama is based on the comic book series Chilling Adventures of Sabrina, which re-imagines the origin and adventures of Sabrina as a dark coming-of-age story that traffics in horror, the occult, and witchcraft. Archie Comics' Roberto Aguirre-Sacasa and Riverdale director Lee Toland Krieger are set to executive produce the series; and serve as the series' writer and director, respectively.
Here are the character description breakdowns:
Mary Wardell (Gomez): Wardell is Sabrina's favorite teacher and mentor at Baxter High. When she is possessed by the Devil's handmaiden, Madam Satan, Ms. Wardwell turns into a sultry, cunning manipulator, always trying to lure Sabrina down the Path of Night.
Ambrose Spellman (Perdomo): Ambrose is Sabrina's warlock cousin from England. Placed under house-arrest by the Witches Council, Ambrose is forbidden from leaving the funeral home where he lives with the Spellman women. Witty, puckish and pan-sexual, he is one of Sabrina's partners in crime, always up for mischief. Best known for her role as Missy on BBC's Doctor Who, Gomez has also appeared in numerous episodes of Fox's Gotham as well as in series such as Green Wing and The Book Group. Debuting in 2016 short Longfield Drive, Perdomo is a relative newcomer to series work. They will be joining fellow cast members Kiernan Shipka, who will play Sabrina; and Jaz Sinclair, who will play Sabrina's best friend Rosalind Walker.
With a 20-episode, two season order, the still-untitled series is described as being in the vein of horror classics like Rosemary's Baby and The Exorcist. In the description, viewers will witness "Sabrina wrestling to reconcile her dual nature as a half-witch, half-mortal while standing against the evil forces that threaten her, her family, and the daylight world humans inhabit." The series was originally developed at the CW as a companion series to Riverdale before moving to Netflix in in late 2017, with Berlanti Productions producing in association with Warner Bros. TV. Greg Berlanti, Sarah Schechter and Jon Goldwater–all executive producers on Riverdale –are set to executive produce alongside Aguirre-Sacasa and Krieger.
Enjoyed this article? Share it!