Nia Jax Explains Kayfabe Reason for WWE Raw Botch
Nia Jax botched a move on WWE Raw last night, certainly not the first time it's happened, and normally this would be cause for alarm because it would probably mean the safety of Kairi Sane was put in jeopardy. However, this was a victimless botch, unless you count WWE viewers as the victims, so we can all joke about it. Even Nia Jax.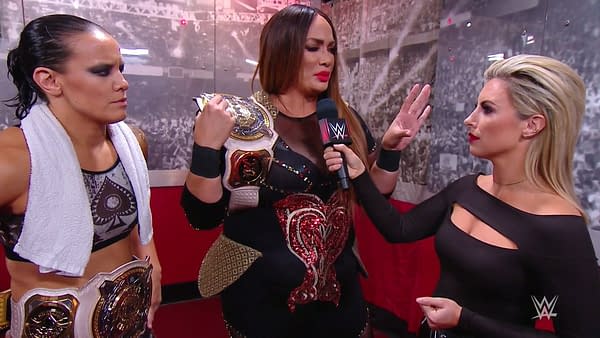 The botch happened during the match between Jax and partner Shayna Baszler vs. Lana and Asuka during Raw's second hour. Asuka was meant to duck a clothesline from Jax in the intended spot, and Jax was meant to continue running toward the ropes, where Lana would pull down the second rope, sending Jax tumbling out of the ring. But instead, Jax paused after the clothesline attempt. Lana did not pause in pulling down the ropes. Jax then looked at the gap between the ropes and charged at it anyway, jumping through the ropes and to the floor.
But Nia Jax explained there was a very good reason things went down the way they did. "Umm, I was charging at little Jimmy; he had it coming!" Jax tweeted alongside a retweet of a video of the botch.
As far as Nia Jax botches go, this one was relatively harmless for the 36-year-old star who seems immune to failure and coincidentally is also related to Dwayne "The Rock" Johnson. In the past, Jax has tossed Kairi Sane too hard into the ring steps for Sane to take the bump properly and also given Sane a buckle bomb so poorly WWE bans the move completely from the company. Sane left the country to retire from wrestling soon after. Jax has even botched her response to the coronavirus vaccine. So the question has to be asked: Has anybody checked on Little Jimmy? Is he okay?