Bait Brings TMNT, Bruce Lee Funko Pops…and Wu-Tang Clan Transformers to SDCC
Bait, located at 920 5th Ave. and a short walk from the San Diego Convention Center, is always a fun spot to go to during SDCC. They offer a lot of designer toys and figures, along with statues, apparel, and some of the coolest sneaker drops there are. This year during SDCC they will have a tons of exclusives available both at the Bait store and on the show floor. From TMNT, to Robotech, to Funko Pop exclusives of Bruce Lee and Power Rangers, there is some cool stuff here. But one exclusive is sure to peak interest above the others. Ever wonder what the members of the Transfomers would look like if they were in the Wu-Tang Clan?
BAIT x Huck Gee x Robotech – Hunter Figure (bronze) – $120
BAIT x Huck Gee x Robotech – Hunter Figure (beige / sail) – $120

Medicom TMNT Michelangelo & Donatello 100% 400% Bearbrick Figure sets – $125
Medicom TMNT Michelangelo 1000% Bearbrick

BAIT x Medicom x Disney Stitch Bearbrick 400% – $120
BAIT x Hebru Brantley x Billionaire Boys Club Beyond The Beyond Fly Boy Figure – Gray Volt Edition – $225
BAIT x Funko Pop Movie – Bruce Lee White Pants – $30
BAIT x Funko POP Movie – Bruce Lee Gold – $30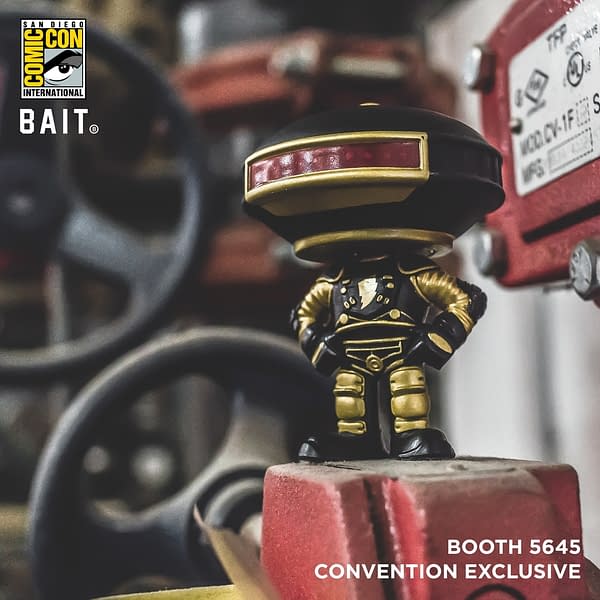 BAIT x Funko POP TV Power Rangers – Alpha 5 Gold And Black Figure – $30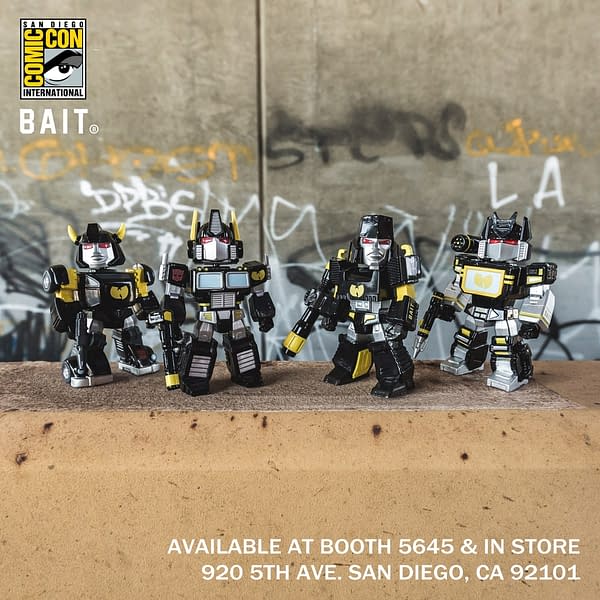 BAIT x Wu-Tang Clan x Transformers 4.5 Inch Figures – Megatron, Soundwave, Bumblebee, and Optimus Prime – $30 Each, or $100 for Set.
Those Wu-Tang Clan Transformers figures are amazing. I have some of their regular Transformers figures that have been released before, and have been quite happy with my purchases. These are 4.5 inch vinyl figures, all repainted to represent the iconic rap group of the same name. Two Decepticons (Megatron and Soundwave) join two Autobots (Optimus Prime and Bumblebee) to form Cybertron's best musical act ever. $100 for the set is a great price, and I have to get my man Soundwave for my focus shelf.
These will all be available either at the Bait store or booth 5645 at the show, or both.