Batman 80th Anniversary LEGO Exclusive Coming to SDCC
Batman is celebrating his 80th birthday this year, and LEGO is helping by bringing an exclusive set with them to SDCC. This is the second exclusive revealed by LEGO, after the Captain Marvel set was revealed earlier. This Batman set will clock in at 427 bricks and features the Dark Knight of Gotham City perched on a gargoyle with the Gotham skyline behind him. The Bat Signal is flashing in the background. Batman is the only mini-fig in this set, and he is equipped with his Bat Hook grapling gun. Check out the set below!
LEGO SDCC Batman 80th Anniversary Set
The set will also come with a special brick featuring the Batman 80th anniversary logo. That is truthfully the best part, I love getting commemorative bricks in sets for display. It makes the sets feel that much more special.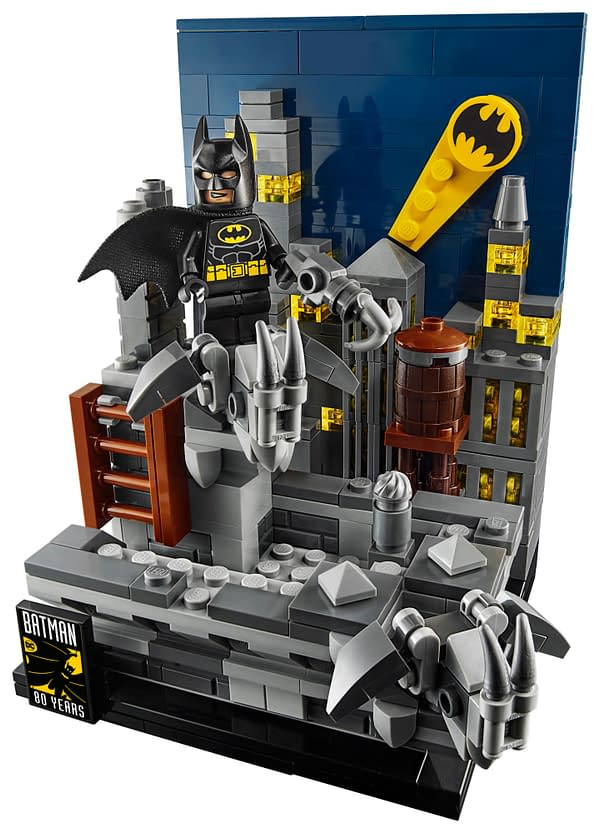 As is always the case, the LEGO exclusives at SDCC are the hardest to get your hands on. They only sell the sets to people who "win" times from the Exclusives Lottery, which badge holders can enter to try and win the last week of June. For more info and to try your luck to win a spot to but this Batman set, go here.