Legendary Television and Bear Walker Industries have collaborated on a limited-edition collector's board inspired by the new Lost in Space series. Now streaming on Netflix, the science fiction show follows the Robinson family as they fight against all odds to survive after crash landing on an alien planet and finding themselves surrounded by hidden dangers.
The new J2 Beacon skateboard design incorporates iconic elements of the reimagined show including Will Robinson's spacesuit and the spacecraft, the Jupiter 2. Each deck is crafted from the highest quality maple, with top-of-the-line trucks, wheels and hardware. The result is a functional piece of art. The Lost in Space J2 Beacon skateboard retails at $425, and pre-orders are now being accepted at bearwalker.com.
"These collector's boards were made to represent the mentality that each board is an exploration vehicle for the 24th Colony Mission," said Bear Walker, Founder and CEO of Bear Walker Industries. "The boards are not only a reflection of the Robinson family's journey into space, but also of my love of sci-fi and desire to break the boundaries of what a longboard should look like. It is the most intricate and sophisticated board to come out of my shop to date."
Lost in Space is a Netflix Original based on Irwin Allen's classic 1960s science fiction series, starring Molly Parker (House of Cards), Toby Stephens (Black Sails), and Parker Posey (Café Society). In this modern update, the Robinson family, part of a highly trained mission to establish a new colony in space, is unexpectedly pulled off course forcing them to crash land on a lost planet. The 10-episode series is now streaming on Netflix.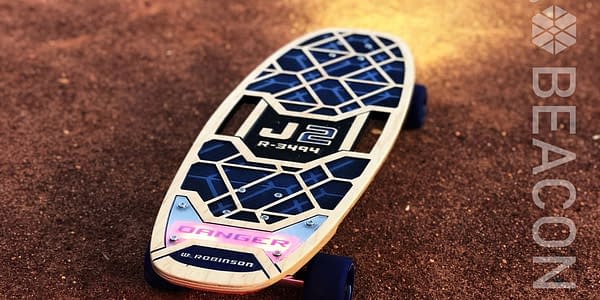 Enjoyed this article? Share it!