BoxLunch and Scooby-Doo Encourage Us to 'Doo Good' to Help Families in Need
Scooby-Doo is launching a ton of new exclusive products available at BoxLunch stores and their online store. The product line, titled "Doo Good", is aiming to help feed children and families who are less fortunate and get them the meals they need. For every $10 spent on the products, BoxLunch will be donating a meal to someone in need. Furthermore, part of the assortment will be a special Flocked Scooby-Doo Funko Pop that will provide 10 meals per Pop sold. The full collection is in stores and online Saturday, July 14th. You can check out the Pop, read more information, and see the whole product line below!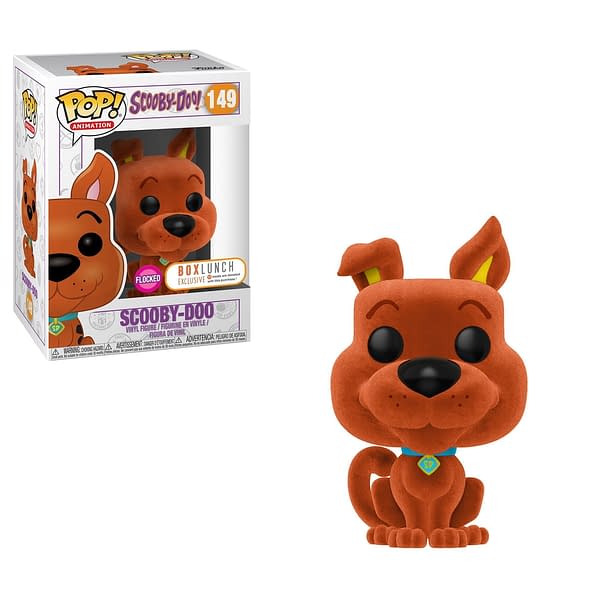 As the Mystery Inc. Gang continues to inspire kids to take action and take part in their communities, Warner Bros.' DOO GOOD social responsibility initiative is bringing attention to Summer Hunger. Today, 1 in 6 kids may not know where they will get their next meal, and the Scooby Gang wants to doo their part by teaming up with retailer BoxLunch to bring awareness to communities and the many kids and families in need around the country.

"We are so proud of what our Scooby-Doo DOO GOOD social responsibility initiative is doing around the country to help create change," said Josh Hackbarth, Vice President, Franchise Management & Marketing, Warner Bros. Consumer Products. "With the Scooby Gang leading the charge, the program offers simple and creative tasks that kids can activate with their families and friends to help bring awareness to these causes to make a big difference!"

BoxLunch, the philanthropic pop-culture retailer, also believes in the power of "Doo-ing Good." With every $10 spent across BoxLunch's curated assortment of pop culture-themed apparel, accessories, home goods, gifts, and collectibles, one meal* is provided to a person in need through a lasting partnership with Feeding America – the largest hunger-relief organization in the United States.

On July 14, BoxLunch and the Mystery Inc. Gang will give back – and launch a collection of inspired merchandise, including an exclusive flocked Scooby-Doo Funko Pop! that donates 10 additional meals for each one sold. Other highlights from the DOOGOOD assortment of apparel, accessories and novelty gifts include matching adult and toddler tie dye tees with Scooby snack embroidery; 2-pack collectors enamel pin sets featuring Scooby, Shaggy and show catchphrases "Zoinks!" and "Ruh-Roh;" a Mystery Machine crossbody bag by designer Danielle Nicole; and a woven tapestry throw of the Scooby Gang in the iconic Mystery Machine.

Continuing the celebration, on Saturday, July 14, the U.S. Postal Service will honor Scooby-Doo with the official "First Day of Issue" dedication ceremony, releasing the first-ever USPS Forever Scooby-DOO! Stamp to highlight the DOO GOOD initiative. The USPS SCOOBY-DOO! Stamp event will be held at Mall of America in Minneapolis, MN, as part of a special launch event, DOO GOOD DAY at MOA.

As the national campaign raises awareness in the fight against hunger, fans of all ages are invited to join Scooby-Doo for DOO GOOD DAY at MOA, a day full of activities for the whole family, including Scooby-Doo appearances and photo opps, fun DIY stations and giveaways, and other surprises throughout day.

The DOO GOOD year-long initiative kicked off in April with a first focus on "Save the Environment" timed to Earth Day. It sheds a light on the "Fight Against Hunger" this Summer and will focus on "Animal Welfare" in the Fall. Spreading the positive DOO GOOD message in a relatable way, Warner Bros. and generationOn, the youth division of Points of Light, continue to offer parents cool tools for kids to be creative and have fun while they work to improve their communities. In partnership with generationOn, Warner Bros. has funded new Kids Care Clubs in 35 cities around the country to kick-start their local efforts.

Today's parents want to raise socially responsible kids and inspire a life-long commitment to doing good – and helps "unmask" how easy it is to help! For generations, Scooby and the Gang have inherently been doo-gooders – always ready to help those they meet along the way! With the deep multigenerational connection so many fans have with these beloved characters, Scooby-Doo, Shaggy, Daphne, Velma and Fred offer easy and engaging ways to inspire kids and their parents to get involved and make a difference.

For information on the exclusive merchandise program, please go to BoxLunch.com/DooGood, and for the Scooby-Doo DOO GOOD campaign, link to ScoobyDooGood.com.