Captain America MCU 10th Anniversary Concept Art Figure from Hot Toys
Captain America is getting a special Hot Toys release to help celebrate the 10th anniversary of the MCU. This will be a convention exclusive, featuring Steve in garb from concept art from Captain America: Civil War. He will come with two shields — the regular circular one and the heater shield. Both are black and white with silver accents. His costume is black and scaled with a silver Avengers "A" on the front.
This is a really awesome-looking figure, boys and girls. SDCC would be a natural convention to have this available at, but nothing is confirmed yet. Check out tons of pics and full details below!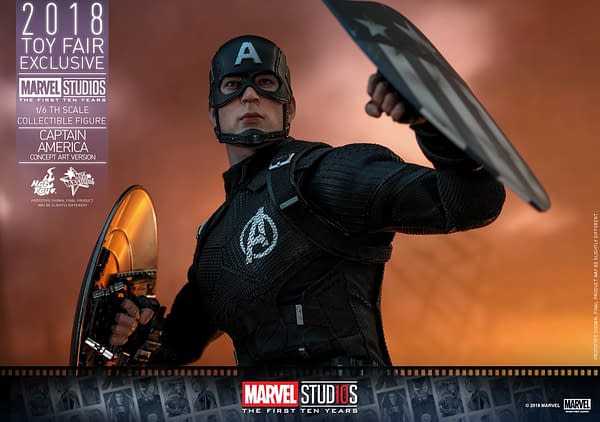 Marvel Studios: The First Ten Years – Captain America (Concept Art Version) 1/6th scale Collectible Figure

For over a decade Hot Toys had created almost 200 astonishing collectibles based on Marvel Cinematic Universe! It's an amazing journey for Hot Toys to be part of Marvel Studios' first ten years, and Hot Toys' dedicated team will continue to create the highly movie accurate and fine detailed collectibles based on fans favorite movie titles!

Today, Hot Toys is excited to unveil its first Marvel Studios: The First Ten Years 1/6th scale collectible figure, based on Marvel Studios' Head of Visual Development, Ryan Meinderding's concept art of Captain America from Captain America: Civil War.
Ryan Meinerding, who has been with Marvel Studios since the early days of Iron Man, helps to design the look and feel of the Marvel Cinematic Universe. He was the visual development supervisor and the suit developer in Captain America: The First Avenger and has done the concept design for all of Captain America's suits.

Hot Toys has specially recreated one of Ryan's incredible variant cover for Captain America cinematic visual design work from Captain America: Civil War, to a highly-accurate collectible figure. With a captivating monochromatic suit that brings out the hidden details, textures, and shapes, the latest 1/6th scale Captain America (Concept Art Version) collectible figure in tribute to the amazing artist Ryan Meinerding is a Toy Fair Exclusive item only available in selected markets!

The 1/6th scale Collectible Figure is crafted based on the appearance of Chris Evans as Captain America/Steve Rogers in the concept art of Captain America: Civil War with meticulous craftsmanship. It features a newly painted helmeted head sculpt with two interchangeable lower faces capturing Chris Evan's facial expressions, a newly developed body which naturally portray Captain America's muscularly toned body, a brand new Captain America battle suit in black with scale pattern and silver Avengers' logo on the chest, Cap's ironic circular shield, a black and white heater shield, and a specially designed Marvel Studios: The First Ten Years themed figure stand!

Reserve a spot for this concept art version of Captain America inspired by Ryan Meinerding to your special Marvel collection today.

Specifications:
– Product Code: MMS488
– Product Name: Captain America (Concept Art Version)
– Height: Approximately 31 cm tall
– Points of Articulations: 30
– Special Features: A newly painted helmeted head sculpt with two interchangeable lower part of faces capturing Chris Evans's facial expressions, A black and white-colored heater shaped shield
– Artists: Head Sculpted by Seung-min, Kang
– Head Painted by E-Lee & JC. Hong
– Head Art Directed by JC. Hong

The 1/6th scale Captain America (Concept Art Version) Collectible Figure specially features:

– Authentic and detailed likeness of Chris Evans as Captain America in Captain America: Civil War
– A newly painted helmeted head sculpt with two (2) interchangeable lower part of faces capturing Chris Evans's facial expressions (neutral and angry expression)
– Movie-accurate facial expression with detailed wrinkles and skin texture
– Newly developed body with over 30 points of articulations which naturally portray Captain America's muscular body in the film
– Approximately 31 cm tall
– Seven (7) pieces of interchangeable black-colored gloved hands including:
– One (1) pair of fists
– One (1) pair of shield holding hands
– One (1) shield throwing right hand
– One (1) shield catching left hand
– One (1) finger pointing right hand
– Each piece of head sculpt is specially hand-painted

Costume:
– One (1) newly tailored black-colored suit with scale pattern and silver-colored Avengers emblem
– One (1) pair of newly tailored black-colored embossed patterned pants with pouches, knee pads
– One (1) pair of fabric coated elbow pads
– One (1) pair of fabric coated knee pads
– One (1) black-colored leather-like back shield holder and body strap
– One (1) black-colored leather-like belt with pouches
– One (1) pair of black boots

Weapons:
– One (1) newly created metallic grey, silver and black Captain America circular shield with weathering effects
– One (1) black and white-colored heater shaped shield with weathering effects

Accessory:
– Specially designed Marvel Studios: The First Ten Years themed figure stand with nameplate