Chris Jericho may be the GOAT in professional wrestling. I struggle to think of another wrestler with his longevity that has reinvented himself and gotten more ridiculous things over with the crowd. The man creates gold. Take this new venture for instance. After winning the first AEW World Title at All Out in September, he wandered around backstage aimlessly just talking, and uttered the phrase "A little bit of the bubbly" at one point. That one comment spawned the fastest selling shirt in Pro Wrestling Tees history, went viral on social media, and has now led to his own brand of bubbly in partnership with Nocking Point. The sparkling wine is available to order now, shipping in December. That is, if you can get on the site-it keeps crashing.
Check out all the info on Chris Jericho and his new venture below.
The viral sensation has arrived! Nocking Point has teamed up with AEW and Chris Jericho to bring you A Little Bit of the Bubbly! A libation suitable for Le Champion! Pre-orders are LIVE! Order today and we will begin shipping the week of December 9th. Check out the video below to see how it all began:
The inspiration was sparked by Chris Jericho's one-man backstage celebration after winning the first AEW World Champion title on Sept. 1, 2019, when he reveled with a little of the bubbly. His "A Little Bit of the Bubbly" catchphrase became an instant viral sensation resulting in countless memes and millions of views worldwide. Now flanked by his notorious Inner Circle of friends, Jericho has been wreaking havoc all throughout AEW. Now you can join in on the celebration with a libation suitable for Le Champion! Pre-order your bubbly today, and we will begin shipping the week of December 9th!
Blend: 100% Ultra-Premium American Sparkling Wine
Appellation: Columbia Valley, WA
Winemaker: Sean Boyd
Consulting Winemaker: Chris Jericho
Release Date: December 5, 2019
Original Label Art By: Chris Jericho + AEW + Brian Brown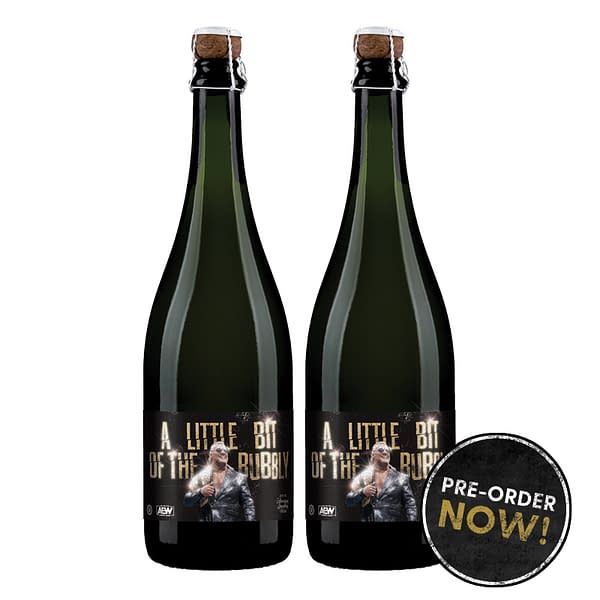 Enjoyed this article? Share it!