Marvel Legends have come fast and furious all summer, and mutants are the toast of collectors right now. Finally Hasbro has listened and we are getting more and more mutants in the line now. Dedicated waves mutants come in two waves now, with X-Men and Deadpool waves adding more and more X-characters to our shelves. The latest is a Deadpool wave of figures, mixing his universe with some long-requested mutants as well. Lets take a look at this new wave that Hasbro was kind enough to send over to us, and try to answer the question: How many Deadpools does one need?
Looking at the two new versions of the Merc With a Mouth, at least one more. The first is the one I personally like more: Deadpool in underwear and slippers. I was fully prepared to hate this figure, but quite the opposite. The sculpt is great, I love the smiling headsculpt. He is very posable, nice tight joints. The weapon holster is pointless, neither weapon fits in it. The wackiness factor makes this one really unique and just a ton of fun. The second less so. A Deadpool repaint with his old X-Man uniform on, he also comes with a swappable head so you can have Madcap, so that's kinda cool. That is definitely the way to go displaying this one, otherwise its just another Deadpool.
Two female figures are included in this wave. First, we get Lady Deadpool. I have never been a fan, but she is one of the standouts of this entire wave. Be careful when removing her from her package, her hair would be really easy to rip right out of her head. Other than that, I have zero complaints, she is easy to pose, keeps her balance really well, and has a great sculpt. Ditto to Laura, although I am not a giant fan of her mask-less headsculpt. Careful moving those elbows as well, they are not the strongest joints in the universe.
The two best figures of the wave are Omega Red and Bishop. Red is a hulking figure, very unique looking. The paint aps are where this guy shines. Anytime there is an abundance of white, there is a chance for disaster. Not the case here, as the reds and whites seamlessly interact and make Red look perfect. Ditto to Bishop, who could not look more perfect in his original look here. I love the giant holster for his giant rifle. The only thing missing is a modern head, but thats ok. Both of these guys are must-buys.
Collect them all and build Sauron, one of the more impressive BAF's they have ever attempted. His wingspan incredible, and the range of motion on the arms and wings in kind of insane. They do have limits, the extended wings come off a little too easily. But if you keep that in mind, there is little else to complain about here. This is a figure I never thought we would get, and they could not have done a better job.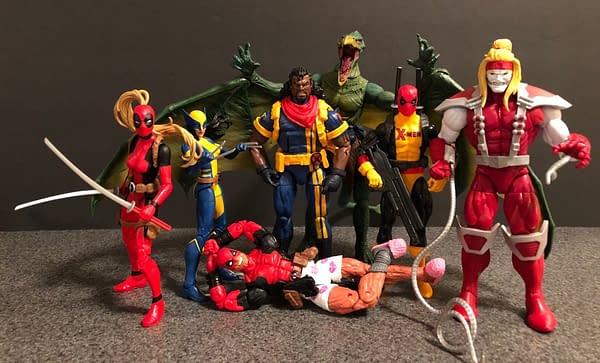 All in all, this is a great wave of Marvel Legends. I don't think we need anymore Deadpool's anytime soon, but if a couple Wade's mean we keep getting tons of mutants, I am more than ok with it.
Pick yourself up a case of these right here if you are so inclined!