Hasbro Retro GI Joe Line- Exclusive To Walmart, SDCC Commander In Sept
Hasbro has finally revealed the one of the worst-kept secrets in the toy industry right now, and shown off their new retro GI Joe line. These will be modern Joe figures in the 3.75 inch scale, all featuring updated sculpts, and coming on vintage cardbacks. Even better, there will also be vehicles. The line will be exclusive to Walmart stores and online, and the first three figures and two vehicles are available to preorder right now. Those figures up now are Baroness, Snake Eyes, and Storm Shadow. For the first two vehicles, we will have an updated version of the HISS Tank, and the AWE Striker. You can see them below.
So much GI Joe Is Coming, Finally
Also revealed during today's Hasbro Pulse stream is what would have been this years SDCC exclusive. This is in the six inch Classified line, the Snake Supreme Cobra Commander. This is the third variation of the character on the way already, and he comes in premium packaging that folds open from the middle and houses the figure and accessories in an open box. The GI Joe baddie comes packaged with a gold pistol, sword, snake staff, and a little version of the world. There is also a pair of interchangeable hands. The Commander also has a sweet snake-like cape in molded plastic. He will be available on hasbro Pulse in September.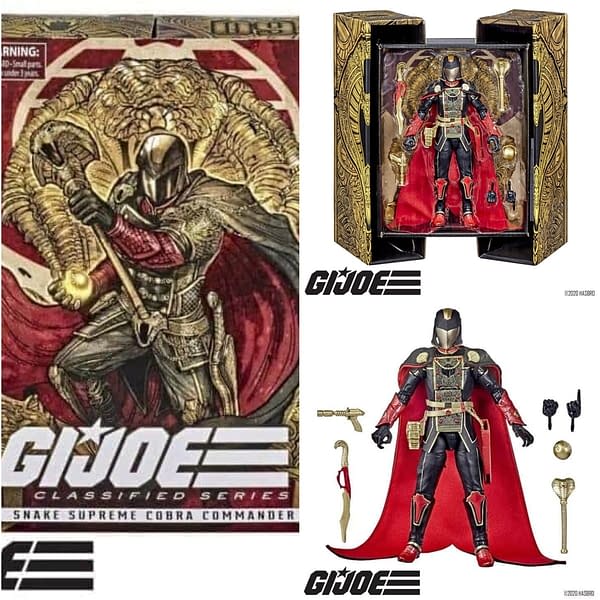 Whoever is collecting GI Joe right now must be in heaven. After years of nothing at all being on the pegs, and a SDCC exclusive here and there, the floodgates are now open. the six inch line is selling briskly already, and with this new 3.75 inch return, for the first time in a long time, the future seems bright for us Joe collectors.