Hellboy is coming home, part of the new Dark Horse Direct line of collectibles. The 1/12th scale figure is being produced by 1000Toys with input from the character's creator, Mike Mignola. He will come with interchangeable hands, a swappable head, gun, sword, and a cloth duster as well. Hellboy stands at 7.5 inches tall and can only be found through the Dark Horse Direct service. Check out pics and details below!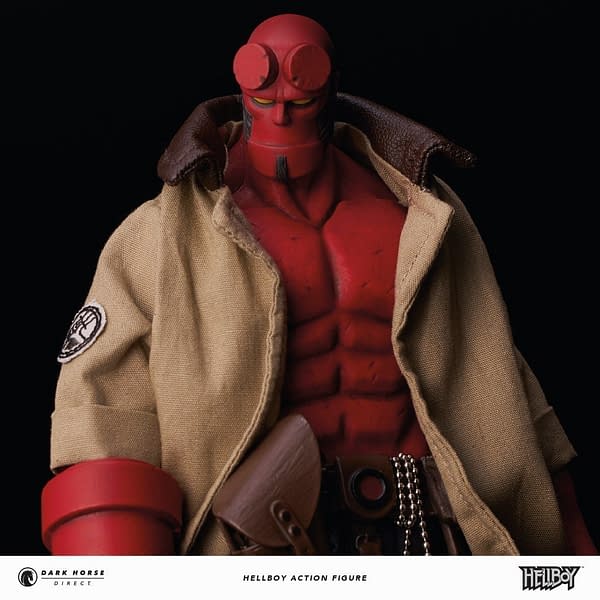 If you love Hellboy as much as we do, you NEED this in your life. Dark Horse Direct, alongside creator Mike Mignola and 1000toys, are proud to present the fully articulated, 1/12th scale Hellboy action figure of your dreams. Made from PVC and standing at 7.5" tall, this stellar Hellboy figure comes with interchangeable Beast of the Apocalypse head, closed fist hand, open hands for holding other accessories, separate gun, Excalibur sword, and removable cloth jacket.

Produced by 1000toys, this version is exclusive to Dark Horse Direct and is by far the most deluxe version offered on the market today. Feel fully qualified to embark on your own paranormal investigations with this full-fledged member of the B.P.R.D. at your side!

WHAT'S INCLUDED

Hellboy figure, fully articulated, approximately 7.5″ tall
Fully articulated, including the Right Hand of Doom
Accessories Included: Beast of the Apocalypse Head, Closed Fist Hands, Open Hands for Gun and Swords Holding, Gun, & Excalibur Sword
Separate gun can be holstered or held in hand
Separate Excalibur Sword to fight back the forces of Evil
Certificate of Authenticity

ADDITIONAL DETAILS AND DIMENSIONS

Expected to Ship: February – April 2019
Product Packaging Size: 9.84" H (250mm) x 7.87" W (200mm) x 3.54" L (90mm)
Product + Packaging Dimensional Weight: 2 lbs.
Edition Size: TBD
Enjoyed this article? Share it!