Let's Take a Look at the Marvel Legends Cosmic Ghost Rider
Marvel Legends collectors have been clamoring for years to get new characters in the line ASAP when they debut in comics. Lately, with characters like Red Goblin, Hasbro has done a great job anticipating who the hot debuts will be and acting accordingly. The new wave of Marvel Legends Deluxe Rides includes one such character, as Cosmic Ghost Rider burns rubber onto collectors shelves. This version of the Spirit of Vengeance is none other than Frank Castle, imbued with the Spirit AND made a herald by Galactus. It all started in the Thanos Wins storyline in the Thanos title in 2017. Since then, the character has been on fire, receiving two different minis and joining the Guardians of the Galaxy. Let's take a look at his first Marvel Legends figure, sure to be a hot commodity for the foreseeable future.
As always, we begin with the packaging. Nothing new here, as the standard deluxe Marvel Legends is used. Hasbro stuffed so much into the box with this one, it takes up every possible inch of the front display window. As always, if you are a MOC collector, you can stop here and be happy as Hasbro always shows off the figure well in the box.
Looking at the bike, it is massive. A little assembly is required, but once you snap the giant front energy ball in place and put this bad boy on the included display stand, it is a marvel to look at. My favorite part are the holsters for the Rider's blasters on the sides by where he sits. Each is specific to each blaster, and it is refreshing for everything that comes in the box to have a purpose and place with the figure while on display. Not enough Marvel Legends do that, I want as much from the contents of the box to be with the figure as I can get. Lots of places on this for paint aps to go wrong, but mine looks pretty flawless. It feels substantial, and that is all you can ask for with these vehicles.
As for Cosmic Ghost Rider himself- he takes his rightful place with the recently released Doctor Doom as Marvel Legends Figure of the Year so far. This thing is flawless. He has great articulation and balance, and I absolutely love that you can remove his dome and adjust the flaming skull head. The armor looks incredible as well, and his spiked shoulder pads are not a hinderance at all while posing. That includes when he is on the bike, he easily reaches the handlebars while in the sitting position and can achieve great poses with both his blasters and chain. The chain this time is also a bit better to work with, and doesn't sag as much as it did with the original Ghost Rider Marvel Legends Deluxe figure from a while ago. He looks menacing, and is a perfect add to your shelf with or without the bike.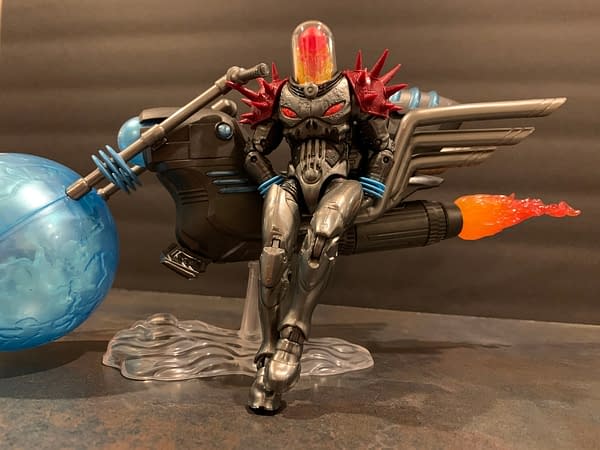 Honestly, I have no complaints here. I will admit that I was not even going to buy this figure if I found it, but curiosity got the best of me when I found it and now I can't imagine my collection not including it. This figure is THAT good. All around this will be one of the Marvel Legends figures that when we look back at the line, everyone will agree that this was as good as action figures get.
You can order one of these for yourself here, here, or here.