Lets Take a Look at the Marvel Legends Avengers Wave 2 Figures
Marvel Legends waves are coming fast and furious this year, and now hitting stores is wave 2 of figures in support of the mega-hit film Avengers: Infinity War.


Overall, this is a great wave of figures. Lets take a closer look.

First up we have the two comic figures. Black Knight comes with three heads, so you can have whatever version of him you want on your collection shelf. The chainmail is very detailed, and I love when they texture figure parts like this. His cape is a little cumbersome, but the rest of the figure is so great I forgive it. Malekith is still a good figure — this is just a repaint of the one that came in the Thor box set from SDCC last year. Cool that those collectors who didn't get that one get a shot here.

Black Widow and Thor are the Avengers MCU figures in this wave, and both are great. Widow is the best figure in the whole wave. The likeness to Scarlett Johansson is spot on, and she is easy to maneuver around. Her batons can separate or connect, she has swappable hands, and her vest is super cool. Perfect figure.

Thor is also great, but we need a break on the God of Thunder. This is his fourth Marvel Legends figure in less than six months. All of them are good figures, including this one. This likeness to Chris Hemsworth is great; pictures do not do it justice at all. This one also is the first to come with Stormbreaker, and while the weapon is cool, it weighs his arm down a bit and is hard to get him to hold it when you twist his wrist. Other than that, another solid Thor figure for collectors to grab.

The last two figures in this wave are Ant-Man and Wasp, featuring their MCU versions. Some have criticized the Paul Rudd face portrait for the smirk, but come on, that perfectly fits the character. I love it. However, he is just kind of a basic figure — kind of boring. The detail on the suit is nice, but nothing exciting here. Wasp, however, is great. She has swappable hands, two heads (one featuring a stunning Evangeline Lilly portrait), and swappable back back with articulated wings. You cannot go wrong however you decide to pose this one — wings or no wings, helmet or no helmet. She is easy to pose and is just a spectacular figure.

As is this waves build a figure, Cull Obsidian. He is hefty and huge, towering over the build a figure from the first Marvel Legends Avengers wave, Thanos. He is not a spot-on lookalike to his onscreen version, but that's okay. He is a cool figure regardless. Heavily articulated, a wonderful sculpt, and everything a build a figure should be. His hammer is a piece of hollow plastic, but after the debacle that was the Gladiator Hulk weapons that is more than okay. The articulation in his feet is a standout here; it makes the weight of the figure evenly distributed so in more dynamic poses he can keep his feet under him. Great stuff.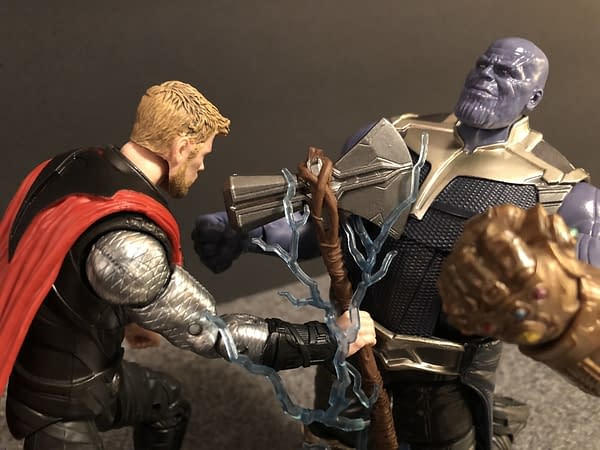 Other than some little nitpicks, this is a great wave of figures. They are hitting stores now, or available for order online at places like this.