Masters of the Universe Collectors: Super7's Snake Mountain is Available to Order!
The day is finally here Masters of the Universe fans! Snake Mountain is available to preorder for the next 30 days from Super7. The biggest MOTU playset of all time, it clocks in at a massive 36 inches high and 48 inches wide. The Demon has a moveable jaw, there are bridges, trapdoors, break away walls, and so much more. The cost is as massive as its size, at $600, which can be broken up into a payment plan as well. This has been a long time coming, and we all have 31 days to decide if you will be adding this to your collection. Will you be taking the plunge? Let us know below, and check out pics and full details on the playset and how to preorder below!
Preorder the Snake Mountain playset here!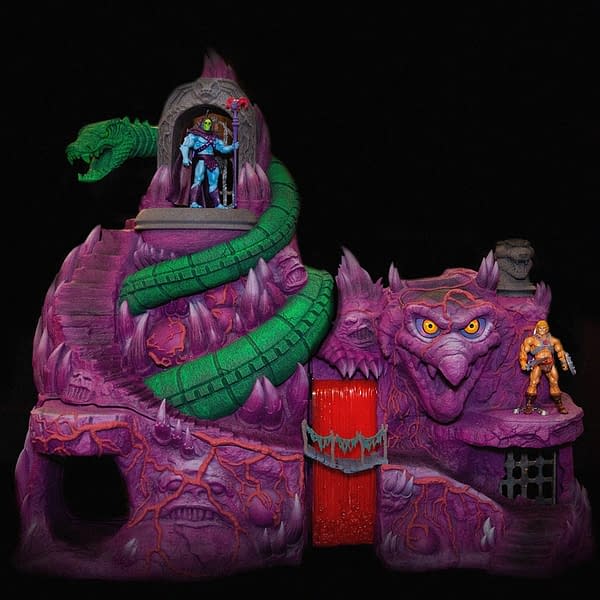 Here we go at last! The evil Skeletor's massive, and we mean MASSIVE, fortress is here: The Masters of the Universe Collector's Choice Snake Mountain Playset! The highly detailed playset features:
Snake Mountain stands 36-inches high and opens to a staggering 48-inches wide
Demon with moveable jaw
Narrow bridge of red hot lava falls
Functioning trap door
Real chains to shackle Skeletor's enemies
Break-away wall secret entrance Skeletor's table and bone throne
Horrifying dungeon creatures
Scaled for Super7's MOTU Collector's Choice deluxe 7-inch figures (figures not included)
All this makes this the most absurdly large Masters of the Universe playset ever made!
Snake Mountain will come packaged in a deluxe art box (measuring approximately 25" x 25" x 28"). For delivery this will be wrapped in protective paper and protected with inner foam corners and shipped in a larger plain (no logos) protective outer shipping box.
This is a made-to-order custom made, pre-order item.
PLEASE READ ALL OF THESE PRE-ORDER DETAILS BEFORE PLACING YOUR ORDER:
Orders are only available to U.S. DOMESTIC DELIVERY ADDRESSES ONLY. The per unit shipping cost to all U.S. domestic addresses will be $150 per playset.
International Order details will follow.
The pre-order window for the playset opens on Wednesday, May 1, 2019 at preorder.super7.com and will close on Friday, May 31, 2019.
The production and release of this item depends on Super7 receiving a minimum number of orders before the pre-order window closes. If this minimum is not met the Snake Mountain Playset will be cancelled and orders will be refunded.
A non-refundable deposit of $100 is required for this pre-order. Deposits will be returned if the Snake Mountain Playset is cancelled.
If you pay in full at the time of purchase and the Snake Mountain Playset is cancelled by Super7, full payment will be returned.
We are offering a payment plan option at checkout for those that would like one. The payment plan will break your purchase into 6 separate payments, and will be managed by our partner Partial.ly.