Masters of the WWE Universe: Let's Look at the Sting Figure
Masters of the WWE Universe is one of those figure lines that seems like it should have been around for years. WWE superstars and their larger than life personalities and muscular physiques belong right alongside He-Man in Eternia. Mattel shocked everyone at this past July's SDCC by announcing not one, not two, but three waves of Masters of the WWE Universe figures, showing belief in the line right from the jump. These will be Walmart exclusives, and are due to hit stores in December. They popped up early online however, and we got an order in. So, let's take a look at the Sting figure and see why this may be a dream line for a segment of collecting.
First off: Mattel has absolutely nailed the packaging. MOTU fans will see a lot of familiar when they see the Masters of the WWE Universe figures on the pegs. The cardbacks are exactly like the vintage MOTU figures from the 80's, skinny and bombastic. The back features awesome artwork, a look at the figures in the wave, and a how-to for how to use the figures accessories. MOC collectors beware: the bottom of the bubble is not attached very well, and comes loose very easily. Other than that: perfect.
We open our toys around these parts, and that is where the Masters of the WWE Universe line shines. These feature the articulation that will be found on the new MOTU Origins line debuting next fall. Classic MOTU look, modern articulation. It works really well, and I have to say, this may be the best looking Sting Mattel has ever done. Sting has a wide range of motion, stands really well, is easy to pose, and has a wonderful sculpt. My one knock is that he has a little trouble holding his claw traps. They have no give to speak of, and weigh down his arm holding it. The claw that fits over his hand is awesome. It fits snug and actually looks cool on the figure.
As if this was not cool enough, each figure will even come with a mini-comic, telling the history of Masters of the WWE Universe. This is a really cool pack-in, and I love the littel nod to not only the vintage line, but MOTU Classics with the character bios.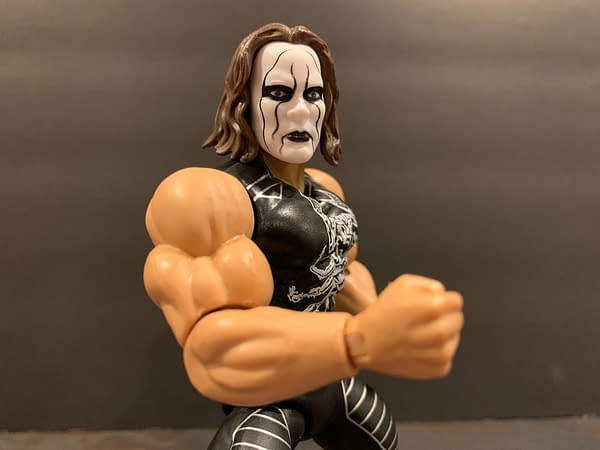 Overall, these are must-gets for WWE fans. This is such an imaginative idea, and the longer this line goes, the better. If every figure in the Masters of the WWE Universe line is up to this standard, we may have the makings of one of the better action figure lines of the last few years.
You can set in-stock alerts for these figures online right here, and find them on the shelf in December.