Ninjak 1/6th Scale Figure on the Way From TBLeague This Summer
Ninjak is getting his very own 1/6th scale figure from TBLeague. The figure will feature a plethora of accessories, including removable armor pieces, swords, daggers, throwing stars, and interchangeable heads and hands. He will feature tons of articulation, and the deco on his costume is incredibly eye-catching. This is looking like a sleeper hit of the summer. He will cost you about $160 and is available for preorder right here. Check out the figure and details below.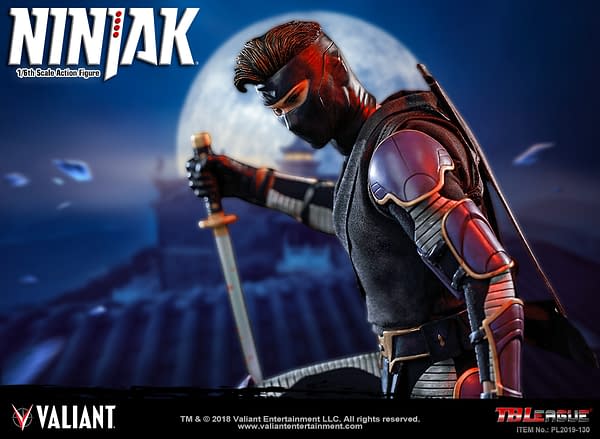 His name is Ninjak, spy and mercenary for hire. He is also Colin King, wealthy son of privilege. Primed for intelligence work from a young age, Colin King was trained in spy craft by MI6 and in martial arts by the enigmatic mystic known as the Undead Monk. Now, he works for the highest bidder, though his conscience often aligns him with the good guys. He is an expert in combat and espionage. He is as ruthless as he is charming. He is Ninjak.
Box Contents
Ninjak figure
Masked head
Maskless head
Armor for the upper body
2 Pairs of gloved hands
Boots with feet
Shoulder armor
Upper arm armor
Forearm armor
Long-sleeved tight top
Ninjak style sleeveless top
Pants
Knee armor
Belt
2 Katanas
Shoulder strap with 2 sheaths
2 Tridents
Dagger
Throwing star