Framing Your Movie Poster Collection in the Best Light: An Interview with LED Frame Developer Jesse Snodgrass
For over 100 years movie posters have represented some of the most immediately recognizable pieces of popular culture and art. From early 20th century examples to the posters currently adoring the walls of the local multiplexes, they are often the first impressions we have about an upcoming movie. The really good ones will connect with us long after we've left the theater, as purely an artistic piece and/or as a connect to our fondness to the particular film.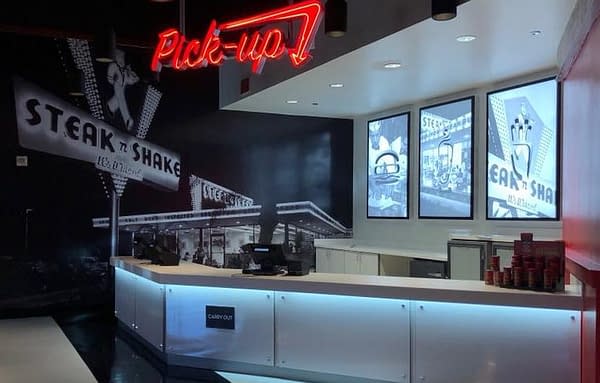 While the fine print on posters has largely always been for theaters to destroy or return them to the film's distributor, in practice that hasn't ever really happened. They go to the staff of the theaters, to collectors, and to dealers. One thing that often happens is that someone will have an opportunity to acquire a poster, then they get home and they're then faced with how to present them. There's the starter approach of taping or tacking them to the dorm room walls, or having them mounted to foam core — but at some point you'll want them to look as good as they did in the theater, and that means specialized frames.
Originally that would mean a very thick frame with lightbulbs around the outside to give a halo effect, or mounted behind the poster, which backlights the poster but results in heating of the poster and causing damage over time. However, technology has evolved for the better for home display. Over the last several years movie poster frames have become available that are backed by an array of LED lights, which allows for the frames to be far thinner and eliminates the heating problems (as well as cutting down on power consumption).
Two years ago I acquired my first LED-backed frame and haven't looked back since. Most posters printed since the early '90s have been available double sided (meaning that the mirror image is printed on the back side, allowing for the colors to be deep and rich when backlit) and it makes an incredible difference. It's not just the fact of being backlit, but also that rather than a frame that you had to go through an extended unmounting and mounting process to switch out posters; the frame edges all have a tension snap so you can pop all four edges and swap out a poster and have them snapped back down again in well under 90 seconds.
The company I'd first found that developed the frames had a booth showing off their wares at Planet Comicon Kansas City was the Lighting Entertainment Display & Print Co., based out of Kansas City (they go by the name of LED Print Co). I wanted to find out more about their story so reached out to owner/founder Jesse Snodgrass, and he was kind enough to have a conversation about their frames and how he came into the business.
Q: It's an interesting niche business to decide to get into; how did you chose to get into the frames business, and especially the LED systems. Were you a collector beforehand?
Jesse Snodgrass: Ever since I was a kid, I have been amazed by poster art, frames, movie theaters, Motion Pictures, art, ads, comics, and arcades. A lot of my passion is contributed to growing up in the '80s and early '90s. Every room I've had has been plastered with movie posters; e.g. Swamp Thing, Batman, Star Wars, Evil Dead… the list goes on and on.
I remember in 1989, going to see TMNT with such anticipation… when we got to the mall, we purchased our tickets and walked the commons area. There was a HUGE display in this area, it was a huge florescent style Light Box with the Original TMNT 1989 DS Movie Poster! From that point on, illumination stuck with me. I wanted one in my room at eight years old!
After high school, I started working for a marketing company, before I knew it, 12 years went by… during my tenure there, I was always tinkering around with different prototypes and sampling florescent Light Boxes and LED Light Boxes from all over the world. Drawing up plans to create a sleek, lightweight, however durable LED Light Box Frame that would be user-friendly, vivid, controllable, and overall top quality.
We are proud to say that after releasing our product, we have not had a single return. Customer Service and Satisfaction is everything to me, as well as our company. I love providing the world with our World-Famous LED Frames. What is truly special is awaiting each customer's feedback, and usually we will receive pictures of their projects and setups.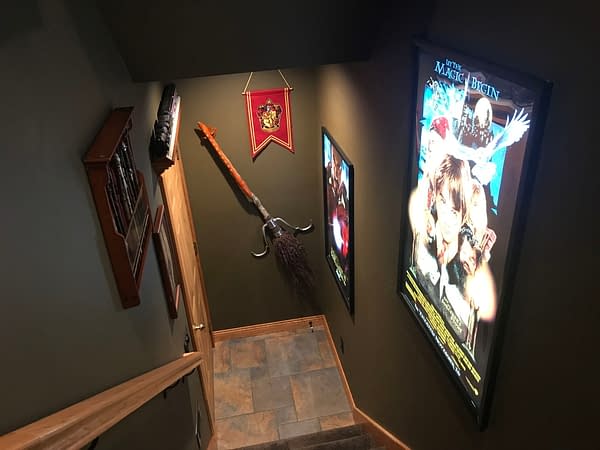 Q: At first glance, someone first looking at getting an LED frame might get a bit of sticker shock (pricing is generally around $320 before shipping). Can you speak to what all goes into development of a frame?
JS: Our LED Frames are anodized and then powder coated (if black color) aluminum, consisting of a pair of extrusion to create a top and bottom that are joined together by springs. This allows the frame edges to snap up and down to hold the print in place and for easy print changes later. The bottom of the frame is where the state-of-the-art 6000K LEDs are installed on the two long edges (on most smaller sizes) and four edges (on most large sizes). We cut the LED strips to size and solder them together to create the perimeter that we need, depending on the frame size. Overall our Anodized Aluminum Frame structures are second to none when it comes to durability and craftsmanship, made in the USA.
Each LED Frame goes through a series of tests for Quality Assurance, ensuring maximum quality and top-notch craftsmanship. The most costly component of our LED Frames are the state-of-art acrylic panels that we utilize to diffuse the light and allow true illumination. Located on top of the LEDs, which allows the lighting to evenly distribute without any hot or cold spots.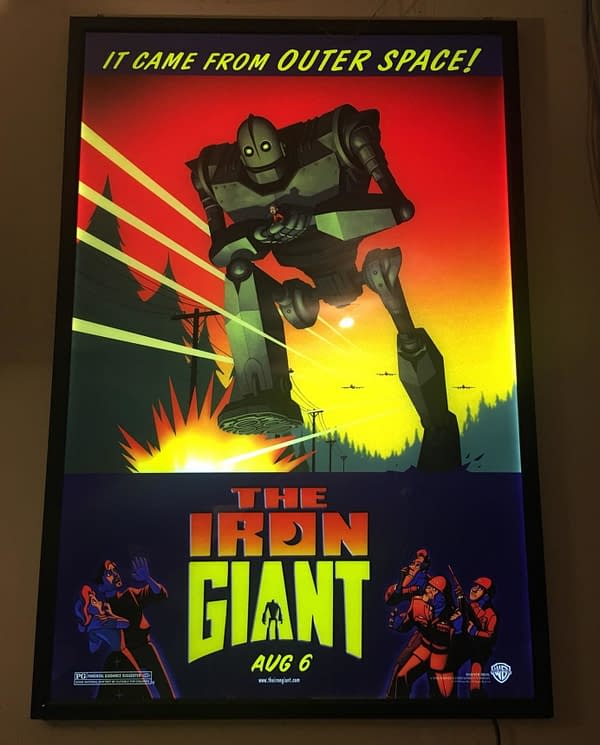 JS: Our black backers are made out of 0.040" styrene & is installed behind the frame to block out any light interruptions and to only allow the light to permeate forward – illuminating the Single-Sided, Double-Sided movie posters, Duratrans prints and custom graphics inside the frame.
To protect the print we offer either a clear or a non-glare PETG 0.020" plastic lens.
There are multiple colors that you can have your frame finished in as well. However, black is by far the most popular!
As far as electrical goes, we have a cord that exits the LED frame through one of the sides (no up-charge for custom placement of cord). Following the cord we have a dimmer control/switch (which is included free) that connects to the cord, which then connects to the power supply box/transformer. From the power supply box you then have the main plug in cord that plugs into an outlet. There have been a lot of customers that have set up home theaters with multiple LED Frames from us. Requesting us to leave the electrical cord "loose" or "raw" at the end of the cord for their electrician to fuse with a recess box, which allows the LED Frame to be mounted.
Q: For collectors with older (non double-sided posters), are LED frames still a good solution?
JS: For collectors with vintage posters and prints, we recommend a 0.030" poly-carb lens rather than our 0.020" non-glare. Currently we don't offer high grade art protective lenses – however, these can easily be purchased at a local art shop. They usually specialize in plastics that will protect the print from UV rays and so forth. LEDs don't contain UV light, as the outdated florescent bulb Light Boxes did.
Q: It seems customer service is a strong focus for you; what's your post-sale relationship with your customers? I expect that you frequently get repeat buyers.
JS: Customer Service and Satisfaction is EVERYTHING for our company! We are our customers. Taking tremendous pride in each piece of feedback that we have received over the years, we have maintained a 100% customer satisfaction rate. As the Owner, it's my responsibility to cater to each and every customer, there are multiple calls a week where I will spend 45 minutes on the phone with a single customer. And what's even cooler, is that the majority of our customers will proactively follow up with me and stay in touch through the years! We receive a lot of "word of mouth" referrals.
Our pipeline consists of home theater owners, artists, business owners, General Contractors, major Theater Chains, casinos, and more. One of our professional referrals is a company called Harris Associate's in Las Vegas. We did a job for them inside Hooter's Casino at the new Steak N' Shake. The Light Boxes, as well as the graphics and prints. The GC for Harris uses our company for any projects that require him to install LED Light Boxes.
Most of our customer base are repeat purchasers, and it's very common for our customers to order multiple LED Frames at once. We manufacture our frames here in the Midwest and supply homes and businesses all over the world.
Five years ago our first customer ordered a 27×40" LED Light Box Frame from us. Anxious to hear back from this customer about his feedback, I persistently checked the tracking information for arrival time, to see what he thought. I received an email from this guy the night he got his Light Box. He ordered his second that night! Our first customer was literally a repeat customer!
JS: I am here to help anyone with illuminating their favorite posters, graphics and more. We have the ability to construct our LED Frames to any size/dimension up to 57.27" x 117.25". I like to put it out there that as the Owner, you can call me, text me, email at any time. 365 days a year. Our goal is to illuminate the world; one Light Box at a time.
Not only do we construct state-of-the-art LED Frames, we also have the ability of being able to print custom files for customers. We love taking on special projects!
* * * * *
For more information you can check out their website as well as their Facebook page.