Toony Terrors Wave 3 From NECA Includes Ash, The Nun, and Nosferatu
Toony Terrors are one of my favorite lines of figures right now. NECA has knocked the first two waves out of the park, featuring Freddy Krueger, Jason Voorhees, both versions of Pennywise, Pinhead, Leatherface, Michael Myers, Chucky, and Tiffany. Each stylized figure is an exaggerated version, almost looking like a Scooby-Doo style version. I love Toony Terrors, and I am far from the only one. They are a huge hit so far, and the newly revealed wave three looks to continue that trend when they hit the shelves early next year. Check em out below!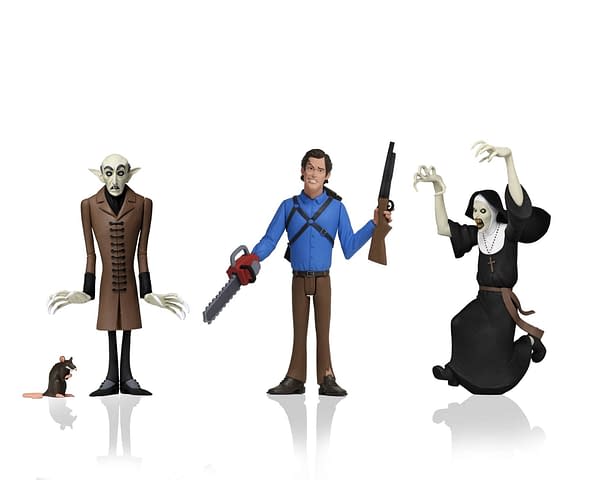 Series 3 of the adorably creepy Toony Terrors line will bring more stylized horror icons into the mix!
Standing approximately 6 inches tall, the action figure assortment includes Ash (Evil Dead 2) with shotgun accessory, The Nun (The Conjuring Universe) with painting accessory, and Count Orlok (Nosferatu) with rat accessory.
Each figure comes in blister card packaging with a bonus cutout backdrop.
Of the three, the most exciting to me is the Count Orlok. It is not everyday we get Nosferatu figures, and this one could not look more perfect. Ash becomes the first hero in the line, and could that look be any more perfect? Finally, in a bit of a surprise, is Valak, from The Nun.
You can preorder these right now here.