Could This Toy Be the Biggest 'Avengers: Endgame' Spoiler Yet?
Okay, let's start with one of these… Thanks to our friends at Idle Hands, we have a look at a new Hasbro toy coming out alongside the upcoming Avengers: Endgame movie.
And they suggest it could be the biggest spoiler of all.
Here's the toy.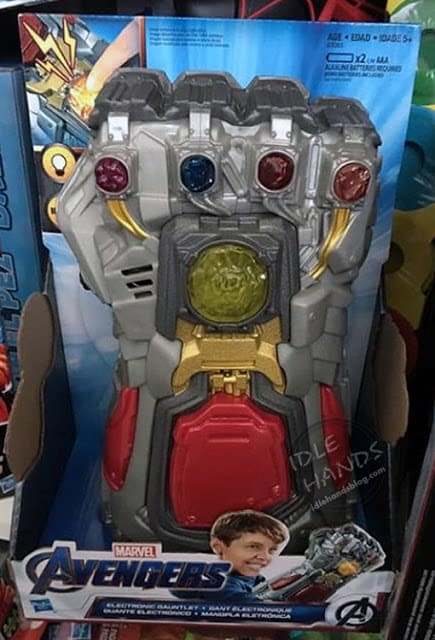 It appears to be a Stark Industries version of the Infinity Gantlet. Idle Hands suggests it is a new version of the Gauntlet built by Tony Stark using the infinity stones gathered in the past, traveling there by the Quantum Realm, then returning to the future to put right what once went wrong and hoping each time that his next leap would be the leap home.
Me, I see it as the Infinity Gauntlet grabbed by Tony Stark. And added to the Iron Man armor to reverse things.
But then I'm still clinging to Thanos' mind being weakened by Gamora with the Soul Stone, infected with self doubt and defeated that way.
However this Hasbro toy spotted on the shelf already suggests a very different legend indeed.
Avengers: Endgame is the direct sequel to 2018's Avengers: Infinity War, a sequel to 2012's Avengers, and 2015's Avengers: Age of Ultron, and the 22nd film in the Marvel Cinematic Universe. The film is directed by Anthony and Joe Russo with a screenplay by Christopher Markus and Stephen McFeely. It features an ensemble cast including Robert Downey Jr., Chris Evans, Mark Ruffalo, Chris Hemsworth, Scarlett Johansson, Jeremy Renner, Don Cheadle, Paul Rudd, Brie Larson, Karen Gillan, Danai Gurira, Bradley Cooper, and Josh Brolin. In the film, the surviving members of the Avengers and their allies work to reverse the damage caused by Thanos in Infinity War
It will be released on April 26th in the USA and on the 25th in the UK.