Nightwing #83 Review: Hits Every Mark
The events of one of the latest crossovers have left an absence in the Bat "family," as Alfred Pennyworth perished at the hands of one of the costumed maniacs who plague the city of Gotham. As you may know, Alfred served a family of billionaires most of his life, and they were … generous with their money, which he invested wisely and, in time, joined their elite number. When he died, every cent of that money … went to the title character, legal name Richard Grayson and in Nightwing #83, the first scion of the Bat has an idea for an all-new, all different war than ever before.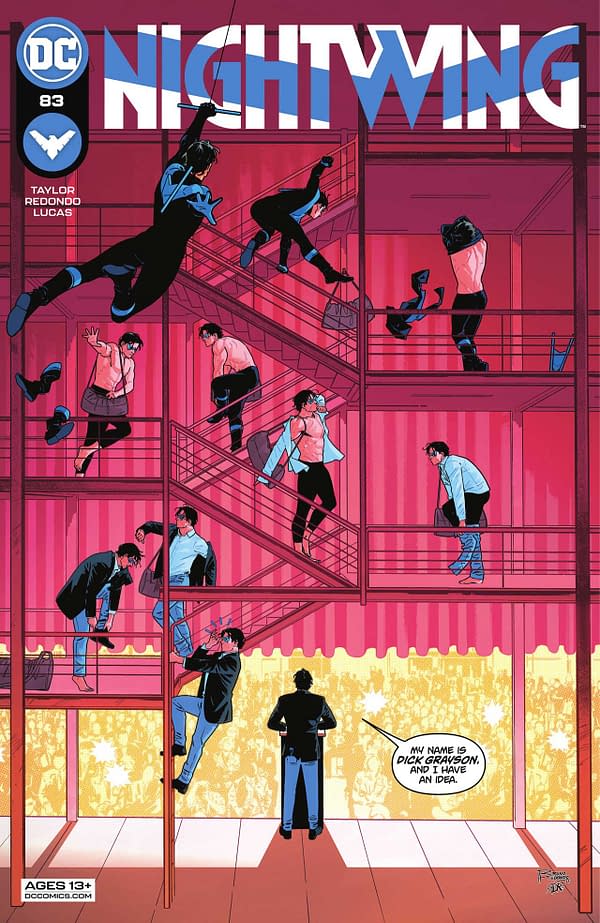 This script from Tom Taylor hits every mark — dealing with the new wrinkle in Grayson's history and resolving it with a truly breathtaking action scene, leaning on the shared universe tools Grayson would rely on, having a simply enthralling discussion with a family friend, and ultimately coming up with a strategy to do something his adopted father never really conceived: win.
We have to talk about the visuals presented by Bruno Redondo, Adriano Lucas, and Wes Abbott. There is a scene here with a helicopter that is one of the most breathtaking action scenes in recent memory. It's absolutely amazing. What's even more amazing is that it's framed in numerous moments of gigantic emotional resonance, wonderful instances of real connection for these characters that cannot be understated.
This issue is really, really good. Conceptually, it's either one of the best ideas in superhero comics in decades or possibly another red herring. Either way, there is a lot to like about this bold, "focused" book that really understands the assignment. RATING: BUY.
Nightwing #83
By Tom Taylor, Bruno Redondo
It's a fight for the soul of the city! Now that Dick Grayson has inherited more money than he could possibly need, he has an idea on how he can help the city with it — and it's time for him to announce it to the world! But with Bludhaven's so beyond saving, what idea does he have that could possible save it? Meanwhile, an unexpected figure comes into play with a plan to buy the city (and all the power that goes with it) from Blockbuster. Things are about to get messy for new public figure Dick Grayson, but maybe he can enlist some help from his friend Nightwing!
---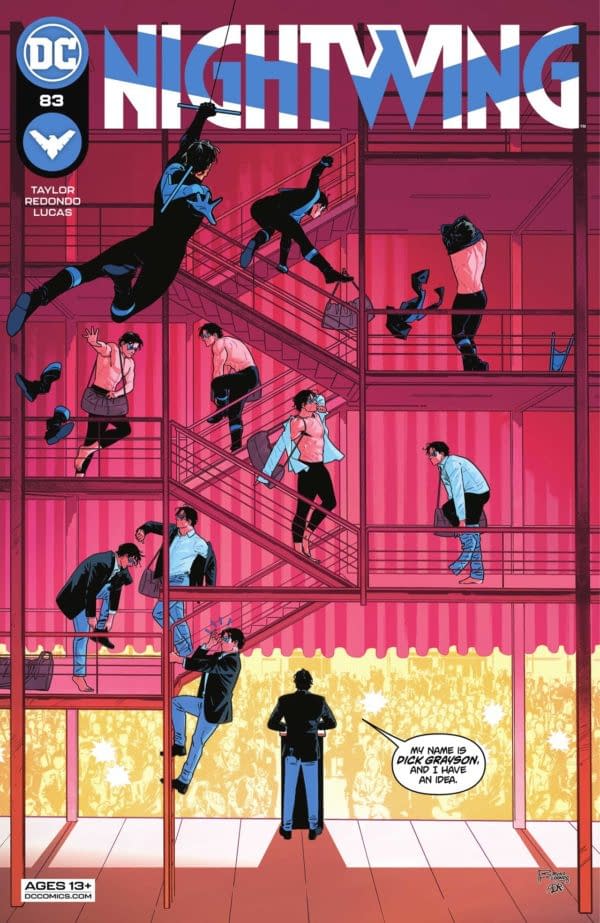 ---
Dick Grayson has done many things his mentor never imagined, and his new idea plans something even bolder: a war that he can win.
Credits
---
Editors
Ben Abernathy, Ben Meares, Jessica Chen