Rat Queens Vol. 2 #9 Advance Review: How Things Turn Out
[rwp-review-recap id="0"]
Dee relives the split between the Rat Queens and Hannah, and we see how things turn out for the Queens 20 years down the line. Dee returns to the life she had with her family and becomes the head of her village's religion. Violet marries, has a large family, and becomes the ruler of her land. Bets has a family of her own too. The three hear of a corruption on the border of Violet's kingdom, and the Rat Queens reunite for one last ride.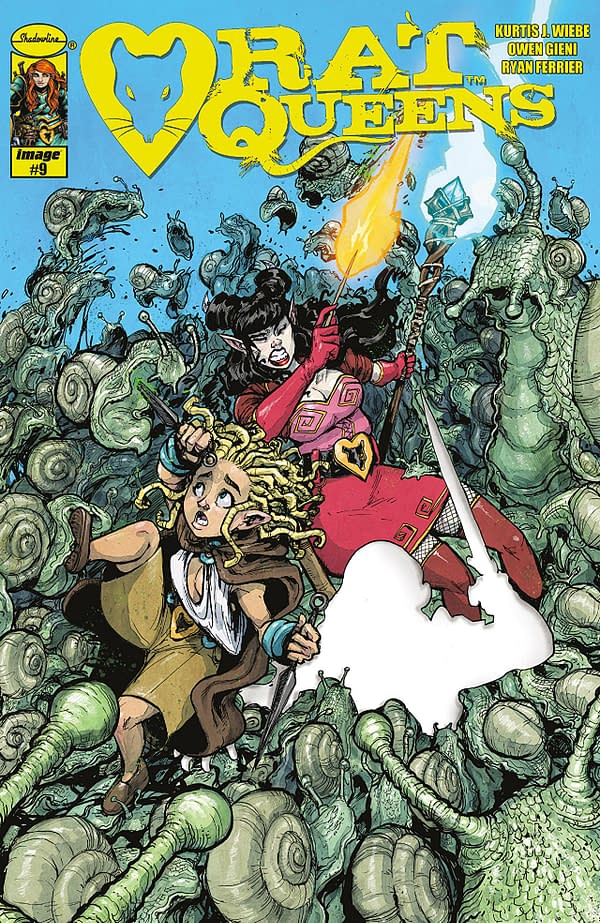 It's been a minute since I've checked up on the Rat Queens, and I'm glad to see that the book doesn't disappoint with this installment. The characters are as lovable as when I last read the book, and this adventure tests the strength of their unity.
It's a plot that's hard to dive into without spoiling the story, but I'm going to do my best.
It's interesting to see the different paths the heroes take, and it serves a reminder that even the best days must end. Every Rat Queen's future is believable, even if Dee and Hannah's are heartbreaking for a few reasons.
The reunion is sweet, and it's warming to see the Queens click so easily.
The characters, above all else, are what sell this comic, and take heart that they are as amazing as ever in this issue.
Owen Gieni's art style is once more expressive, dynamic, and kinetic. The world's design is unique and gorgeous. The environment is well detailed and looks like a place you could truly get lost within. The color work is often popping and wildly contrasting in a manner that fits the high-energy nature of this fantasy setting.
Rat Queens Vol. 2 #9 is another compelling chapter in the series, with the reader getting a look at how things could turn out for this band of adventurers. Lovable characters and beautiful art make this an easily recommendable comic. Check it out Wednesday.
[rwp-review-ratings id="0"]
[rwp-review-form id="0"]