47 Thoughts About 47 Comics – Moon Knight, Uber, Nailbiter, Extinction Parade, The Shadow, Black Kiss, Satellite Sam,The Woods, Doctor Spektor, Deadpool Vs X-Force, Caliban, Rocket Raccoon, Starlord, Fantastic Four 100th, Futures End, Batman Eternal, Action Comics, Green Lantern, Justice League 3000, Batman/Superman, Batwing, Thief Of Thieves, Won Ton Soup, Witchblade, Angel & Faith, Miracleman, Archer Coe, The Victories, Elephantmen, Twilight Zone, White Suits, Suicide Risk, The Woods, Splinter Cell, Southern Bastards, Star Mage, Garfield, Dexter's Lab, Big Trouble In Little China, Black Bat, Morning Glories, Robocop, Six Million Dollar Man, Vampirella, Indestructible And Lazarus
This is the Week Of Howard Chaykin… a look through the days comics. Issue by issue, Moon Knight seems to be increasing in popularity, as a new readership is introduced to a Warren Ellis-ian point of view of the world though a Declan Shalvey lens. And this issue plays out like a sideways scrolling arcade game from the late eighties. In fact playing a Street Fighter theme tune as you read may not be the worst thing in the world. Warren Ellis lives in Southend-On-Sea. This is what happens to that town in today's Uber. But why would you do such a thing to the poor man?
Oh come, come, Nailbiter, that's a bit harsh. Moving on…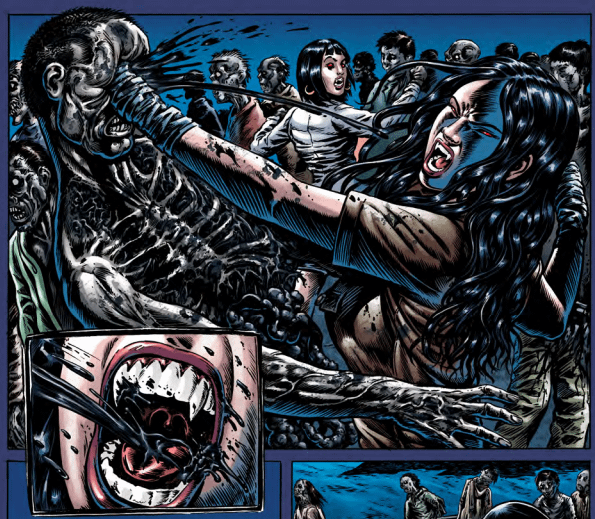 We get a new Extinction Parade series, War, that looks absolutely amazing. What if Charles Burns only wanted to draw vampires killing lots and lots and lots of zombies? This is that comic. The Shadow Midnight in Moscow #2 brings on the grossness too, as Howard Chaykin goes to town. For a second chapter of Howard Chaykin today, there's also the Black Kiss XXXMas Special, out of season, a rape revenge epic that takes in racism, paedophilia and the consequences or revenge both with and without a penis. Oh and members of the KKK, because it's that kind of comic. And for an unprecedented third portion of Chaykin in one, week, he's a little more restrained in the new Satellite Sam, giving us the joy of special effects in the fifties. And it's an absolute joy. It worked, it worked… and we know how magic television can me. Doctor Spektor #2 also has some televisual special effects to share. Say, do you remember the days when X-Force would all just jump in the air and that would be enough? Deadpool Vs X-Force does. Even if, at this point in the story, they weren't X-Force yet. They want to sell copies… here's how they used to be. Yeah, I never thought jumping crotch-first into a sword was a good idea. Sometimes trying to get a new look, or a new wardrobe can be taken a little far, don't you think? From Caliban #4… Piotr Rasputin, Pete Wisdom, Peter Capaldi, Kitty does have a point, in The Legendary Starlord. She's talking about the tail, folks. Rocket Raccoon makes his debut comic today, coming to a Loot Crate near you soon… Reed and Sue Richards have a grandkid called Kirby in the year 2061. And Vicky, named after a certain Doom….
Talking of Kirby creations, Futures End shows us where all the Earth 2 heroes end up after the upcoming Earth War. That's of course, unless everything changed between now and then. Not much privacy I have to say…and they clearly have no change of clothes.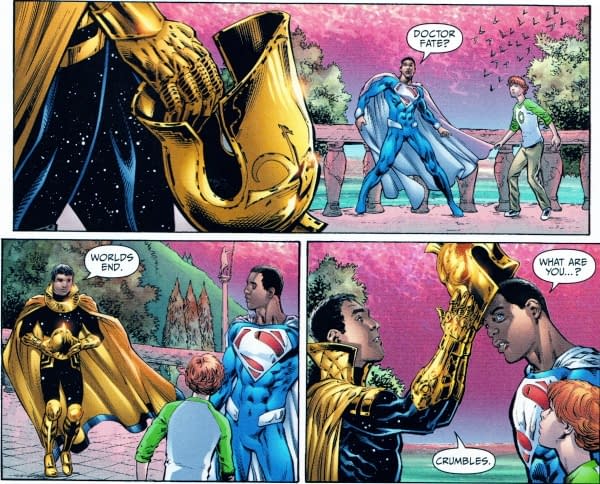 As the current Earth 2 comic seems to indicate something bad on the way as well. Everyone loves that Helmet of Fate these days, don't they? Moving on…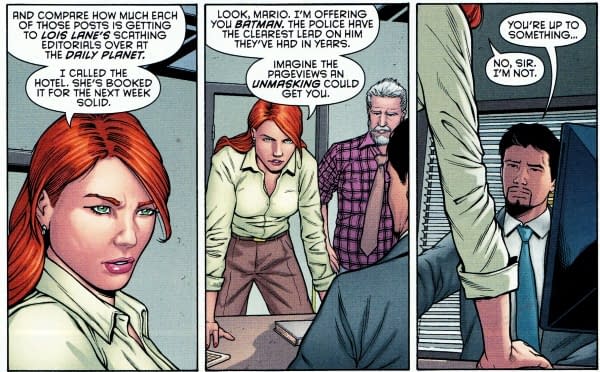 A Batman unmasking in Batman Eternal may get pageviews, but not as many as an iPhone 6 unboxing, surely? There are priorities. In Action Comics, Superman does his very best impression of the Hulk, as Superirl enables him. Hmm… is it just me, of having Superman away from Earth when he's like this only dampen the danger? It's all a bit World War Hulk…. It's nice that Green Lantern still only costs $2.99 isn't it? Still holding the line… and everyone likes a little Hal Jordan. Or a lot… That's what I call a Green Lantern Corps, from Justice League 3000. Or would that be a Green Lantern Hard Corps? Lois Lane meets her fate (again) in Batman/Superman. Ah well, only one thing to do, go and rip the Joker's heart out I guess. And Batwing gives us rather unconvincing Batman cosplay. Anyone else fancy dressing up for San Diego?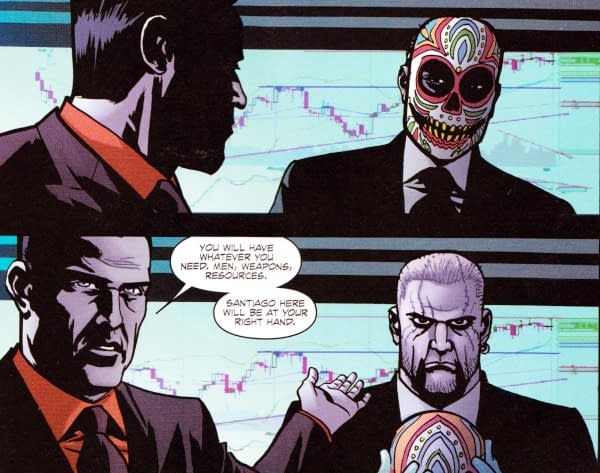 It's San Diego, not San Tiago. And they also have a no weapons policy. Sorry Thief Of Thieves, get your act together.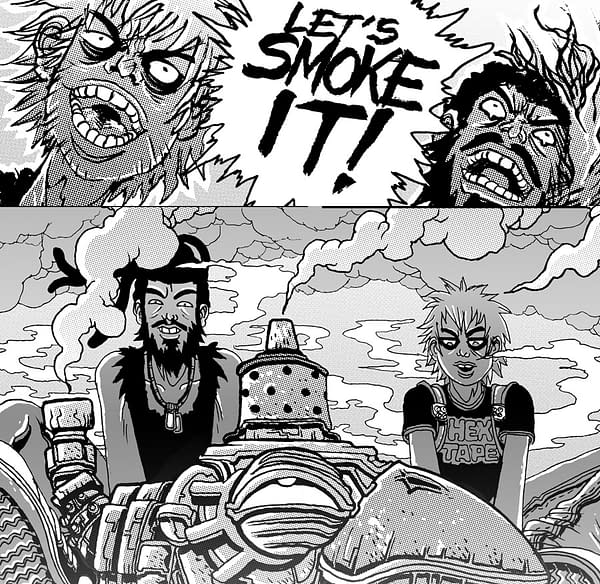 Won Ton Soup defines my reaction to, well, pretty much everything in life when I was 19. In Witchblade #176, Sara's deputy, Rooney, gets a little more used to the absurdity of her sheriff's life… Serious, in Angel & Faith #4, you just can't go anywhere if you're a vampire with a soul without someone insisting on giving you some kind of lecture. Talking of which… Old editorial pages of Miracleman with Cat Yronwode are rewritten with a clunkier credit. Here's how it originally looked… with the Eclipse plug for the New Wave titles, now removed. There are a lot of cats around today it seems. Archer Coe gives me a great idea for a hypnotism act. Cats Acting Like Chickens. Admit it, you'd pay good money. But what else could you et a cat to do if you put your mind to it?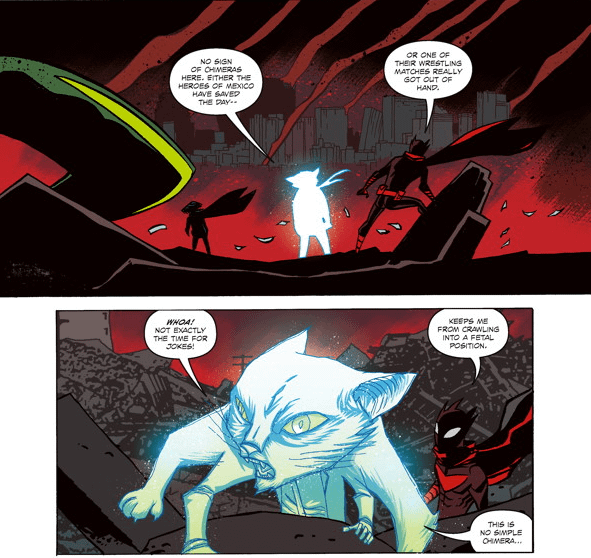 Victories #13 asks the question – what actually is simple about a chimera? Surely by their very nature they are complex beasts with competing ways of life? Elephantmen knows…. So possibly best not as a household pet then. Any other fabled legendary creatures in need of assistance? Twilight Zone #6 raises just this issue. It could be anything, an ingrowing horn, allergy to rainbows, there are many afflictions that can affect a unicorn and they need help. Pleae give generously, we accept all Assyrian coinage. Well that's okay then, as long as it was necessary, everyone can go home now. White Suits #4 gets messy…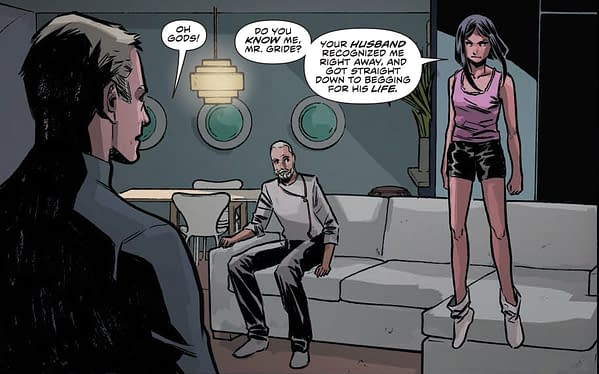 Everyone is just so tense these days. Suicide Risk #15 ups the ante. Once you've said that sort of thing, you just can't walk away from it. Let's try a more calming comic, I'm just too stressed out. I guess that's how it just feels sometimes, courtesy of The Woods.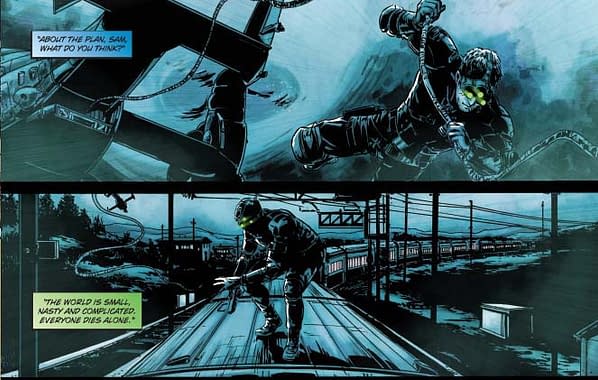 Splinter Cell #1 joins in the ennui. I need something with a cheerier disposition, not a bad word for anybody. Well Southern Bastards clearly wasn't it. Such an attitude so early on a Wednesday… Star Mage #4 again gives us insult after insult. Would a kindly word really have gone amiss? No, it seems even Garfield is getting it in the neck, from others trying to call him out. Why make things so much worse, mice? Stop giving the ginger cat grief… Even Dexter's Lab #4 is full of the worst of the worst. And that's no better, Big Trouble In Little China #2. Insults to trucks and mothers and mother-truckers all in one panel. I'm sick and tired of all this negativity and I demand someone does something about it all. Okay, Black Bat, as you were then. I'll just have to find a way to deal with it all. I know… Morning Glories, can you help? There we go. Everything is better with cake. And Robocop 2014 remembers his catchphrase just in time for the new series. Six Million Dollar Man crosses the panel divide. It's a neat little trick when done well. And this does it well. Vampirella is subject to a rather nasty love bite there. But, as we all know, every strong independent woman has a mode of transport they can rely on and take charge of, and Vampi is making that point very clear.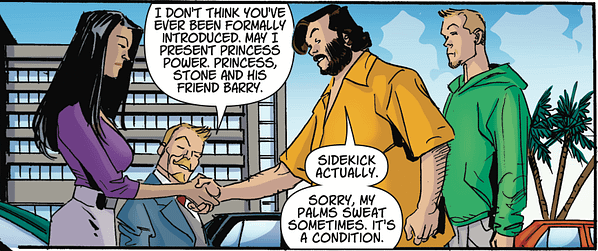 Indestructible #7 gives us the possibility that the comic could be renamed Stone And His Friend Barry. Would you buy that?

Always listen to the nun.
Comics courtesy of Orbital Comics, London. With a Your Days Are Numbered magazine event taking over the store on Saturday with a David Quantick and Shaky Kane from 6pm.