Mayoral Candidate Kane Survives Brutal Attack by Braun Strowman on WWE Raw
Breathe easy, citizens of Knox County, Tennessee. Mayoral candidate Glenn Jacobs, better known as WWE Superstar Kane, apparently survived a brutal assault from rival Braun Strowman on WWE Monday Night Raw last night. Jacobs, who is set to face off against WWE Universal Champion Brock Lesnar in a triple threat match for the championship at the Royal Rumble PPV that also includes Strowman, attacked Lesnar as Lesnar was leaving the arena after a speech by his advocate, Paul Heyman. As the brawl between Jacobs and Lesnar spilled into the backstage area, Strowman appeared out of nowhere, assaulting both men by throwing large objects on top of them.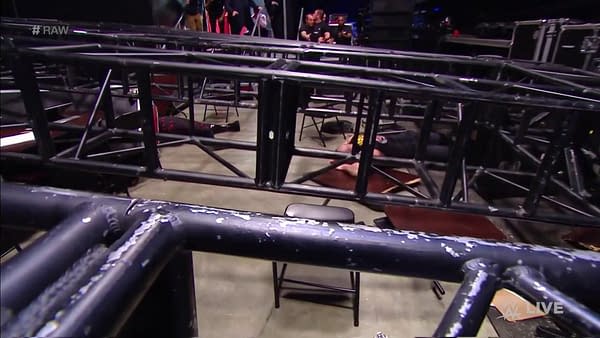 It was then, in a shocking moment the likes of which hasn't been seen since John Hinckley Jr. shot President Ronald Reagan, Strowman opened a nearby equipment case which, for some reason, contained a grappling hook, expertly threw the grappling hook thirty feet into the air onto a large metal structure, and pulled the structure down on top of both Jacobs and Lesnar. The entire brutal attack was captured on video, and can be seen below:
(Warning: the following footage contains disturbing acts of violence.)
According to a report from WWE.com, Jacobs refused medical attention following the attack. Jacobs' opponents in the Knox County mayoral race would likely say that voters have a right to know if Jacobs suffered any permanent injuries from the attack, but Jacobs and his campaign are keeping things under wraps for now.
Though the violent attack on Jacobs might seem shocking, it's not the first time Jacobs has been involved in this kind of altercation, and he hasn't always been on the receiving end. In 2017, Jacobs threw Strowman, at that time his tag team partner, into the back of a garbage truck and turned on the compactor in an attempt to crush Strowman to death. Jacobs has also been caught on camera in the past setting a man on fire and electrocuting another man's testicles.
The Knox County mayoral primary takes place this Spring. Jacobs, a Libertarian endorsed by Senator Rand Paul, is running in a triple threat race for the Republican nomination. Senator Paul has yet to comment on the shocking events of Monday night.