Terry Bogard was revealed as Super Smash Bros. Ultimate's fourth DLC fighter on Wednesday's Nintendo Direct. He's set to launch sometime in November 2019.
While it wasn't stated outright in the Direct, given the other DLC characters, it's safe to assume the Terry DLC pack will cost $5.99 and include a new stage and additional music tracks for the game. Alternatively, players can purchase the Smash DLC Challenger Pack, which includes Terry and four additional fighters for $24.99.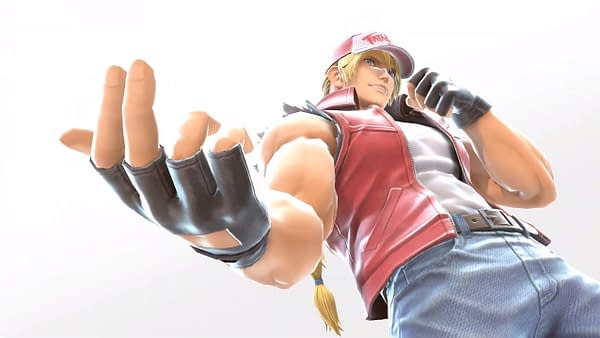 Terry's announcement finally put the recently created SNK Smash Bros. rumor to rest. Over the weekend, an official Nintendo page for Character Pack 3 cited an SNK copyright at the bottom. The copyright led fans to correctly believe an SNK was coming to Smash, but there was much discourse as to which one. Various rumors implied that they'd have a mecha, competing rumors said they'd "definitely be female."However, Smash pundits eventually spilled the beans on it being Terry Bogard on Monday.
Additionally, Nintendo revealed that they're planning to create additional DLC fighters than the initial five promised in the Fight Pass. It's currently unknown how many characters should be expected to join the fray. Or possibly, if fans should expect a whole new Fight Pass, complete with five new fighters.
Smash fans didn't leave the direct with just pockets full of anticipation, some DLC was announced to be launching immediately following the presentation: Challenger Pack 3 and Mii Fighter Costume Pack 3. The third challenger pack included the addition of Rare Studio's Banjo and Kazooie as a playable character, Spiral Mountain as a new stage, and additional music for the game. The third Mii Fighter Costume Pack wave was revealed to house attire from Megaman X, Undertale, Pokemon, and more. Notably, the Undertale inspired costume comes with a Smash remix of Megalovania. Finally, Sakurai announced that the frequently requested Home Run Mode would be coming to Super Smash Bros. Ultimate.