Southern Bastards #20 Review: 20 Pages of Brutal Bloody Beatdowns
Roberta Tubbs has an arrow sticking out of her hand. She was about to exact her vengeance on Coach Boss, but she's too busy trying to heal her hand to do it. The man who shot it, Boone, has his own justice to deliver to Boss. What follows is a brutal and blood-soaked duel between the three Craw County residents.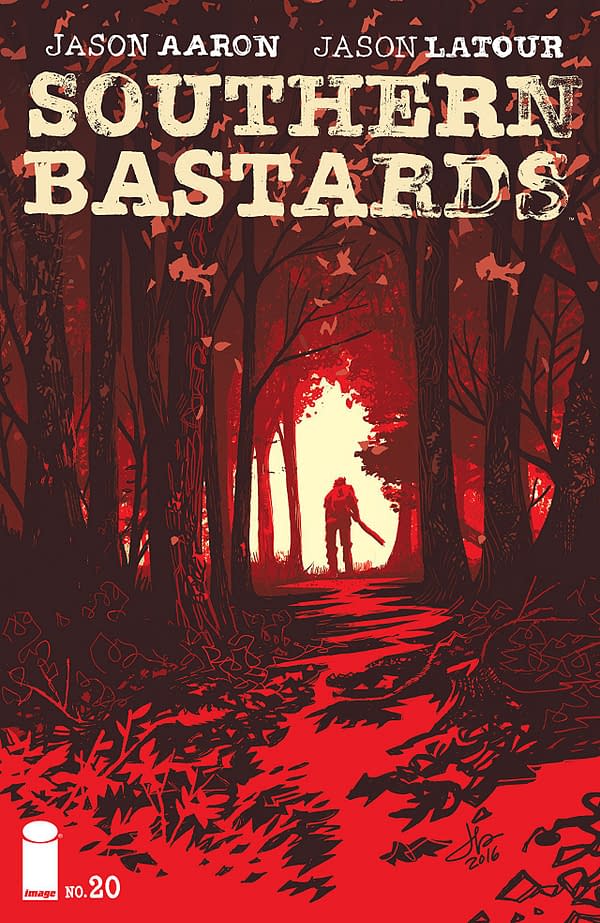 Southern Bastards #20 is an extended struggle between these three characters as they try to kill one another. It's never established exactly why Boone or Roberta doesn't let the other kill Boss, but personal satisfaction seems to be a big part of it.
That aside, this comic is brilliant. The lengthy battle between Roberta and Coach Boss especially manages its own emotional weight while delivering catharsis that could suck in even those who aren't well-acquainted with this series—sorta like myself.
Southern Bastards #20's ability to capture the atmosphere and personality of a small southern US town is quite remarkable. While it's not the first to do this, the cult that builds around football is something else to witness in person. It does border on a religious experience for many folks.
It does drop the f-bomb to a bit of a ridiculous degree, but, in most scenes, it feels more than appropriate.
Jason Latour's artwork doesn't disappoint throughout the book. It's gritty, frames the important details well, and the detailing is quite grueling at times. The characters are beaten, bloodied, and look like death itself by the end. His color work is similarly skillful, giving the world a dirty look with enough greens, browns, and, of course, reds to create its motif.
Southern Bastards #20 is a brutal and absorbing issue about three angry and driven people who aim to see one another dead. The narrative is a hellacious ride that won't let you go, and the art is an excellent stylized recreation of the Deep South. This one gets a strong recommendation. Give it a read.