Beyond Good and Evil 2 Shown off at Ubisoft Conference at E3
Beyond Good and Evil 2 was one of the first games shown off at this afternoon's Ubisoft E3 presentation. Featuring all of the space pirates and wonderful cinematics you can shake a stick at, the game looks pretty epic.
You will lead a crew through deep, uncharted space when they run into Jade, who now seems to be the antagonist of this new game. She was identified by Pey'j, the anthropomorphic pig from the first game. The game takes place in the 24th century and works as a prequel to the original. The first game came out in 2003 and became a big cult hit. To say that people are chomping at the bit for more is an understatement. Check out the new trailer right here:
Gameplay was also shown from Ganesha City, one of the games main settings. You will never find a more wretched hive of scum and villainy…
Joesph Gordon-Levitt himself was also on stage to talk about Hit Record, his company that facilitates collaboration among people from all over the world to create music, art, and more. They will be handling a ton of community art and music submissions for the game.
Ubisoft seems to be taking its promise to take care of its beta users through the Space Monkey Program pretty seriously. Fans will be able to submit their creations, which will be distributed throughout the game. The goal is an entirely collaborative process between the developer and the fans, to make them feel like they have contributed to the game. Musical submissions will be paid if used, so that is pretty cool. Over 100,000 people are already contributing. Beyond Good and Evil 2 will be the first game Hit Record has worked on.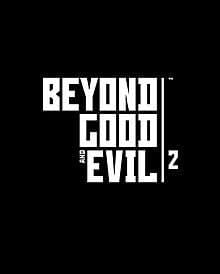 We did not get a release date, but here's hoping it is soon, because it looks spectacular.
Keep it locked to BC all week long for extensive E3 coverage!