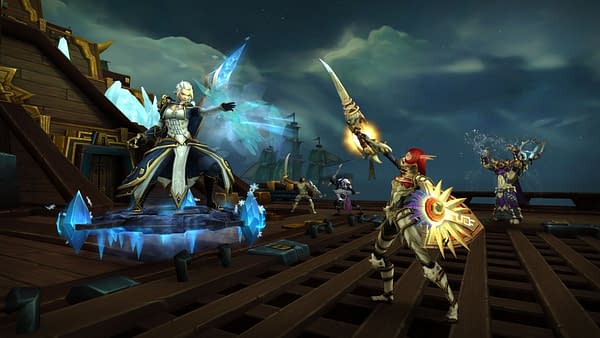 In case you missed the content preview stream on April 11th, Blizzard's Senior Game Designer Jeremy Feasel used the stream to lay out exactly what World of Warcraft players can expect from the next major chapter in the Battle for Azeroth cycle. You can watch the full stream here or keep reading for the highlights.
New Zone: Nazjatar

One of Rise of Azshara's new zones, Nazjatar is the home of an ancient night elf civilization and the lost city of Zin-Azshari. It has emerged from the depths of the ocean after being entombed for thousands of years so it's naturally pretty spooky.

Mechagon Island and Operation Mechagon

Mechagon Island will introduce a new gnome-themed zone full of technology.
In the Operation Mechagon dungeon, players will go toe-to-toe with the mechanical and megalomaniacal King Mechagon, who wants to cure Azeroth of the "curse of flesh" once and for all.

New Raid: Azshara's Eternal Palace

The new eight-boss raid, Azshara's Eternal Palace, will take players into the depths of Nazjatar.
The raid features an underwater boss fight and a confrontation with Queen Azshara herself.

Continuation of the War Campaign

The story of the Battle for Azeroth War Campaign will continue with Rise of Azshara, and the fate of Baine Bloodhoof, who's currently chained within Orgrimmar, is at stake.

Heart of Azeroth Updates

Big changes are coming to the Heart of Azeroth, which includes a new category of items called Essences which players can collect and infuse into an artifact. You can read more about that here.

New Tauren and Gnome Heritage Armor

The new tauren and gnome Heritage armor are also arriving.
New quests will be available for each of these races, delving into their histories.

Two New Islands: Crestfall and Snowblossom Village

Two new islands are set to release in Rise of Azshara.

Crestfall, a location drawn from a Warcraft II map, will provide deep cuts of lore scattered across its landmass.
Snowblossom Village, where the pandaran have been under attack by undead forces.

Heroic Warfront: Battle for Stromgarde

World of Warcraft's first Heroic Warfront, Battle for Stromgarde, will challenge participants to coordinate their efforts to protect resources and take objectives against unrelenting AI opponents. It's essentially a survival strategy mode, but the WoW version.

New Arena: The Robodrome

The Robodrome is a gnome-themed Arena complete with the whirring and clanking of gears you'd naturally expect. This new Arena will also make its way into the competitive PvP scene.

Unlock Flying: Pathfinder Part II

For those excited to take to the skies, Pathfinder Part II will reward players who earn the achievement with the new Mechanical Parrot flying mount.

Season Update: Season 3

Season 3 introduces a brand-new set of Vicious mounts and new Gladiator Arena mounts for PvP.
This season will also see an increase to item levels and a new Nazjatar-themed affix for Mythic Keystone dungeons.
Season 3 will also see the release of the Eternal Palace raid and the Operation Mechagon dungeon.

Holiday Updates, New Profession Recipes, And More!

New holiday events will be coming for Brewfest, new Profession recipes, new pets, new mounts, new gear to collect, and a new pet battle dungeon are on the way as well.
Enjoyed this article? Share it!