At Toy Fair in London this week, there were, naturally photographic restrictions. Sometimes permission must be asked, it's par for the course. There are some things that toy manufacturers, distributors and sellers are happy for each other to see, but haven't yet been revealed to the public, and as part of the agreement to participate, these are guidelines members of the press who attend, such as Bleeding Cool, are bound by.
But at Toy Fair London 2018, there was only one toy – or rather franchise – that had photographic restrictions that I could see. Stall after stall after stall (okay, three of them then) I heard the same response.  That I could take photos of anything – except the Incredibles 2 line.
Incredibles 2 is the new Pixar movie, a sequel to the original movie from 2004, and anticipated to do absolute gangbusters on release this summer.  It is being written and directed by Brad Bird, the writer and director of the first film, and features Holly Hunter, Craig T. Nelson, Sarah Vowell and Samuel L. Jackson all reprising their roles. The film is scheduled to be released on June 15 in the USA and 13th July in the UK.
What was so secret about the Incredibles 2 line? Um, well, as far as I could tell, the toys look just like the Incredibles did at the end of the first movie..
The only new thing I could see was a raccoon. As director and writer Brad Bird talked about at D23,
The director described the scene in question as a scrapped idea from the first movie that became an early jump-off point for the second: Despite Jack-Jack having demonstrated his powers at the end of the first movie, the family is still patently unaware of the potential of the youngest member of the Parr family. The footage showed Bob falling asleep while babysitting Jack-Jack, who notices a vagrant raccoon sifting through the trash outside. Jack-Jack sneaks out and proceeds to pick a violent fight with the creature, who quickly turns from vicious to terrified when Jack-Jack unveils powers of telekinesis, laser vision, and, you know, that whole fireball thing. Bob comes out just in time to see the raccoon flee from his multiplied, superhuman baby—and let out a giant cheer: "He has powers!"
What does it look like in toy form? A cartoon raccoon. That's it.
In jovial discussion, no retailer could understand why the photographic restriction was imposed. One talked about how they'd been showing off the photos on their website for months without a problem. But the word had come down.
Look forward to a PR-friendly release at some point in the next few months. With raccoon.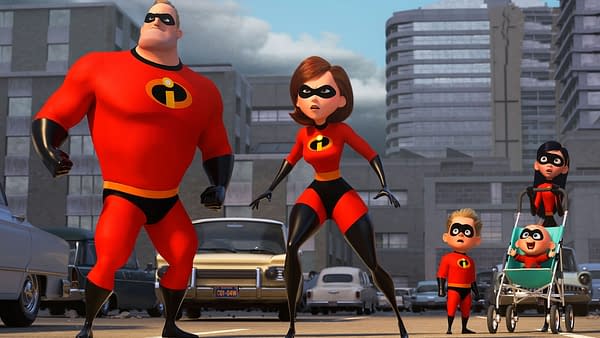 Enjoyed this article? Share it!