Hello there, loyal readers and fans of Magic: The Gathering, Wizards of the Coast's premier trading card game! We had quite a few different preview cards crop up throughout the span of the day and we would like to discuss a few of them with you now.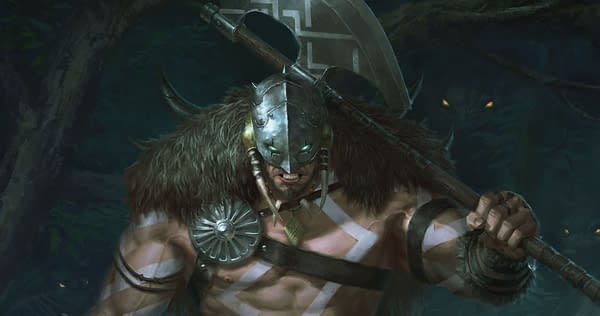 First off, we have a card that, while its English name has yet to be revealed to the public, we will call "Garruk, Unleashed," due to that being a direct translation from the preview card, which we found in Spanish.
Garruk Unleashed has the following loyalty abilities (the rest of the card is relatively-easy to understand even as a non-Spanish speaker):
+1: Up to one target creature gets +3/+3 and gains trample until end of turn.
-2: Create a 3/3 green Beast creature token. Then, if an opponent controls more creatures than you, put a loyalty counter on Garruk, Unleashed.
-7: You get an emblem with "At the beginning of your end step, you can search your library for a creature card and put it on the battlefield, then shuffle your library."
The card seems pretty straightforward, if somewhat run-of-the-mill as far as green-aligned Planeswalker cards go, but with that in mind, green Planeswalker design space is fairly slim in Magic: The Gathering to begin with.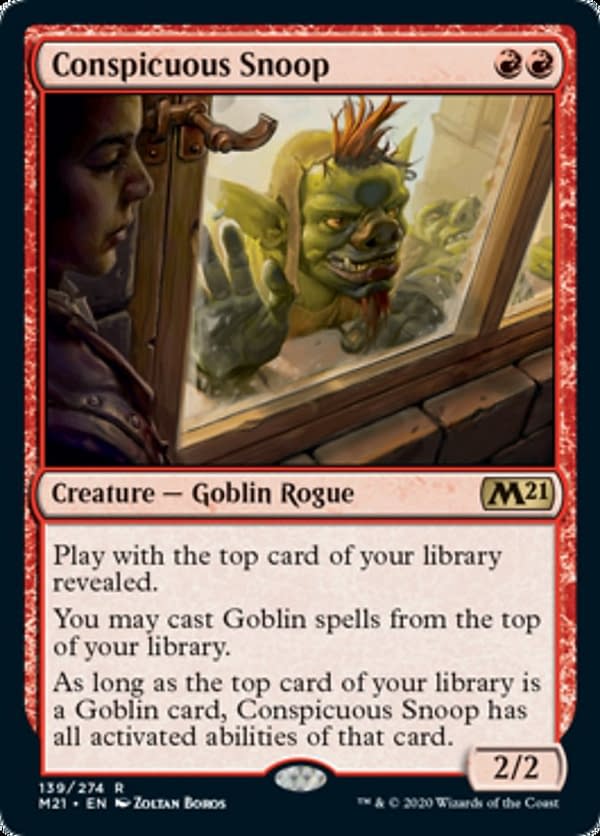 Next in our round-up, we have a new card for red in Conspicuous Snoop. This Goblin creature card acts as a pseudo-Future Sight but only specifically for Goblin spells. Don't be fooled by the humor in the card, though: many Magic: The Gathering combo players are already trying hard to find a way to break this card in half.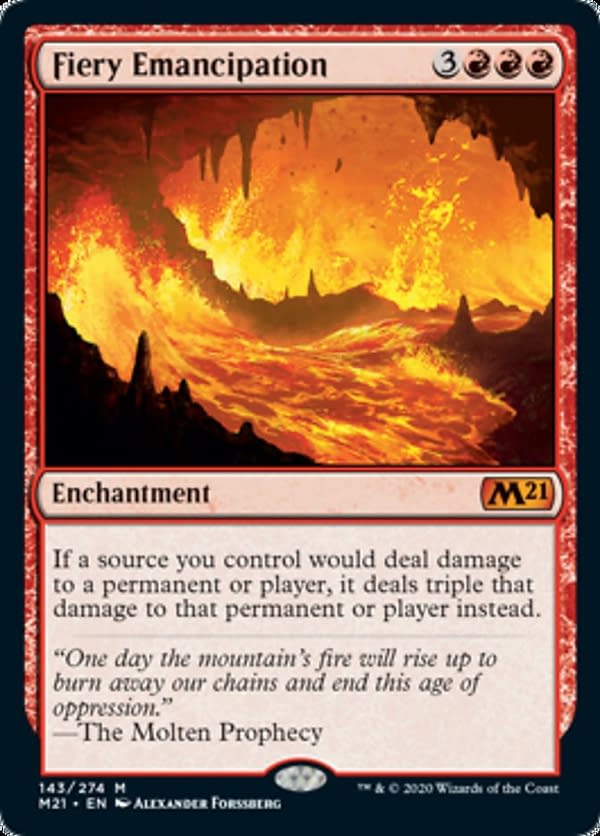 Finally on our list of cards today we have a real scorcher of a Mythic Rare. Fiery Emancipation is a game-ending card if ever we have seen one. Wizards of the Coast's new obsession seems to be tripling things, as they certainly seem to have enough doubling cards for a whole set. Nyxbloom Ancient is a brutally-strong card that makes triple mana, and this one will certainly do its part in damaging opponents and their permanents for triple the effectiveness, come Core 2021's release.
What do you think of Core 2021 so far? Has it piqued your interest? Let us know in the comment section below!
Enjoyed this article? Share it!