Overcooked! All You Can Eat Is Headed To PS5 & Xbox Series X
Good news for all you would-be chefs as Overcooked! All You Can Eat will be coming to both the PS5 and Xbox Series X. Team17 and Ghost Town Games revealed today that the next generation of consoles will have a new version of the game to play, sort of. The next incarnation will be a combination of the first two games, as well as all of the DLC and bonus content, all rolled into one title. This version will include over 200 levels from both games, seven new levels, and three new chefs, all serving up food at 60 FPS gameplay with 4K resolution, not to mention faster loading times. The content from Overcooked! has been rebuilt in the Overcooked! 2 engine, which will also enable levels from the original game to be played online for the very first time. Plus, it will feature cross-platform multiplayer so you can play with friends no matter which console they own. You can check out the trailer and both company's thoughts on it below.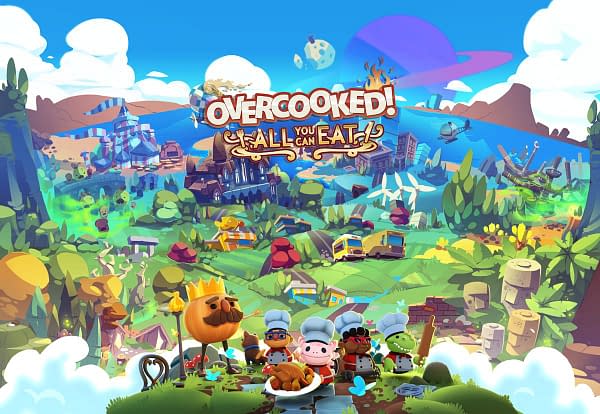 "Phil, Oli and I are thrilled to be working with Team17 once more to bring next-gen platform players fresh versions of Overcooked! and Overcooked! 2. We've been overwhelmed by the support and love shown for the series and can't wait to bring the chaos to new and experienced players alike," said Gemma Langford, Writer and Studio Manager, Ghost Town Games.

"Overcooked! continues to be an incredibly important series, one that millions of gamers have taken to their heart over the last few years – it's a modern classic! For Overcooked! All You Can Eat, we wanted to make sure to deliver the definitive Overcooked! experience that brings every Overcooked! level online and looks and plays better than ever, so we hope so we hope players are ready to get back into the kitchen when the game launches later in the year," said Max Everingham, Head of Publishing, Team17.