Activision Blizzard Announces Overwatch LEGO at Licensing Expo 2018
Activision Blizzard Products Group is bringing a ton of licensing and retail products to Licensing Expo 2018, including new licensing and retail partners. The standout announcement from this massive slate of products, however, is the news of Overwatch-themed LEGO sets.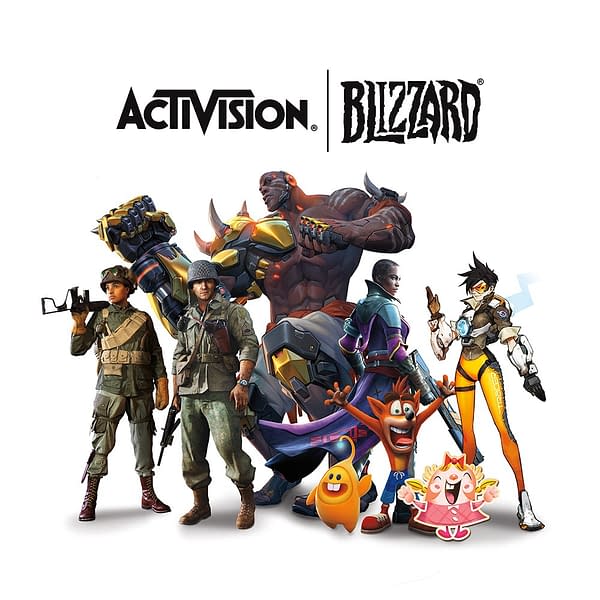 That said, the whole Overwatch merchandising program is getting a pretty significant expansion. Hasbro has been awarded with the master toy license for the franchise, with plans to release a wide range of toys including a NERF product line. LEGO will be releasing multiple Overwatch building sets across various price points. And Overwatch is one of the many franchises being features in a new apparel line from UNIQLO for its Spring/Summer 2018 collection.
Additionally, the Call of Duty franchise is getting new collectibles with the announcement of Call of Duty: Black Ops 4. New partners for CoD includes MacFarlane Toys, USAopoly, and even Clairefontaine stationary.
The Overwatch League, Call of Duty World League, and Major League Gaming brands are getting more apparel as that is the center of the merchandising program for Activision Blizzard's esports product line.
"Since debuting at last year's Licensing Expo, we've begun to successfully realize our vision of offering more value and more opportunities for our global licensing and retail partners by leveraging the blockbuster franchises that Activision and Blizzard have created and expanded over many years of dedicated development," said Tim Kilpin, CEO and president, Activision Blizzard Consumer Products Group. "For our hundreds of millions of players around the world, we're working hard to build lasting global franchises that they can connect with across game platforms and through esports and vibrant transmedia story content. We are well positioned to continue playing a leading role in shaping the future of entertainment."
Located in Booth #U202 the Activision Blizzard products coming to Licensing Expo 2018 include:
Activision Highlights:
Call of Duty:

New partners

McFarlane (Collectible Figures)
USAopoly (Risk and Monopoly board games in North America)
Pyramid (Homeware, Accessories)
Poetic Gem (Apparel)
Park Agency (Knitwear)
Clairefontaine (Stationery)

Returning partners

Mattel (Collectible Construction Sets)
Exquisite Gaming (Cable Guys, Crates)
KontrolFreek (Gaming Controller Accessories)
Bioworld International (Apparel, Accessories)
Astro Gaming (Headsets)
Trends (Poster & Calendars)

Crash Bandicoot:

New Partners

Just Toys (Backpack Hangers)
BDA (Controllers, Accessories)
Pyramid (Homeware, Accessories)
NECA/Kidrobot(Collectibles)
GameStop (Totaku figures)
Park Agency (Knitwear)

Returning partners:

Changes (Apparel)
Concept One (Accessories)
Rubber Road (Apparel, Accessories)
Funko (POP! Vinyl figures).

Spyro:

New Partners:

Funko (POP! Vinyl Figures)
Changes (Apparel)
NECA/Kidrobot (Collectibles)
Surreal (Drinkware)
Rubber Road (Apparel, Accessories)
GameStop (Totaku Figures)
Pyramid (Homeware, Accessories)
Exquisite Gaming (Cable Guys & Crates).

Bungie's Destiny: Their licensing program continues to give fans new ways of experiencing the rich characters and worlds of Destiny.

New and returning partners:

Blizzard Publishing (Books)
McFarlane Toys (Action Figures, Statues)
Mattel (Construction Sets)
Funko (Vinyl Figures)
ThinkGeek (Vinyl Figures, Apparel, Accessories)
Rocklove (Jewelry)
Razer (PC Gaming Accessories)
Surreal Entertainment (Drinkware)
The Coop (Collectibles, Accessories)
USAopoly (Puzzles, Chess Set, Playing Cards)
Rubber Road (Apparel, Accessories)
Gaya Entertainment (Apparel, Collectibles)
Blizzard Highlights:
Overwatch

New and returning partners including:
Hasbro (Master Toy)
NERF (Blasters)
LEGO Group (Construction)
UNIQLO (Apparel)
Bioworld International(Bags, Accessories)
Spirit Halloween (Costumes)
Disguise (Costumes)
Brown Trout (Calendars)
Insight Editions (Stationery, Cookbook)
Trends (Posters, Sticker Packs)
Just Toys (Sticker Books)
Good Smile Company (Figures)
Razer (PC Peripherals)
J!nx (Apparel, Accessories)
Dark Horse(Artbook)
Funko (Apparel, Bags, Home Accessories, Figures)
Scholastic (Books).
World of Warcraft

:

Partners include:

Brown Trout (Calendars)
Del Rey (Novels)
Panini International (Novels)
AST (Novels)
Jeu Media (Publishing)
Ju Ju Be (Bags and Accessories)
J!nx (Apparel, Accessories)
Insight Editions (Cookbook)
Funko (Figures)
Dark Horse (Publishing).

Hearthstone:

Partners include:

Insight Editions (Pop-up Book)
Displate (Fine Art)
Panini International (Art Book)
Huginn & Muninn (Art Book).