Overwatch fan-favorite Sombra is getting her own Nendoroid figure from Good Smile Company. This one has her classic skin, and will come with two faces, hacking effect pieces, a swappable translucent arm, effect sheets, a translocator, and a boop hand. I swear these Nendoroid figures are getting better and better. This one will run you $49.99 and ships in January. You can preorder one for yourself right here and check out details and pics below!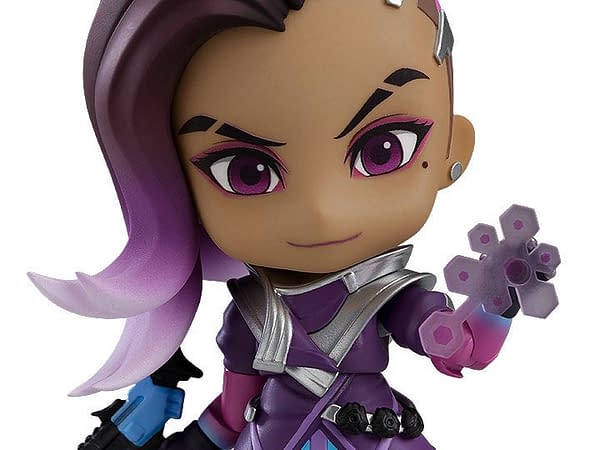 From the globally popular multiplayer team based shooter Overwatch, comes the seventh Nendoroid figure from the series, Sombra! Her iconic hairstyle has been faithfully captured by making use of multiple hair parts that connect to the head – an unusual feature for a Nendoroid. The beautiful gradients of her hair and outfit have been preserved on the figure, capturing her appearance in cute Nendoroid size perfectly! She comes with two different face plates which can be used together with the various included parts to display her using her skills in and out of combat.

Hacking effect parts include both a hand part to display her making use of the Hack skill, as well as a skull mark with an attachment piece to display other characters being hacked! An alternate arm part made from translucent parts is included to display her starting to go into stealth mode, and she also comes with a Nendoroid sized Translocator to quickly jump back to safety! Transparent effect sheets are also included which allow you to display her using her EMP skill, as well as capture some of the poses from her emotes and highlight intros.

Last but not least, she also comes with an interchangeable hand part with her index finger purposefully sculpted slightly larger than normal to display her in the "Boop!" scene from the animated short. Be sure to display her with the previously announced heroes in the Overwatch Nendoroid series!

Product Features

3.90 inches (10cm)
Made of plastic
From Overwatch
Classic Skin Edition
Fully articulated

Box Contents

Sombra figure
2 Face plates
Hacking effect parts
Alternate arm part made from translucent parts
Translocator
Effect sheets
Boop hand
Enjoyed this article? Share it!