"Pokémon Sword and Shield" Will Feature 18 Gyms, Optional Auto-Saving
Pokémon Sword and Shield is about to debut in November, and every day we learn a bit more about the games. Now, thanks to Game Informer's latest cover story, we've got a whole new batch of info to dissect.
According to Game Informer, there will be 18 total Gyms found in Pokémon Sword and Shield, which will be split up into Major and Minor Leagues. There will be various gyms that appear in each league, and there may be different versions of each. For example, Allister and Bea's Ghost and Fighting-type Gyms will appear in the Major League in either Sword or Shield versions. Apparently, each Gym can be in different leagues throughout the years in the Galar region.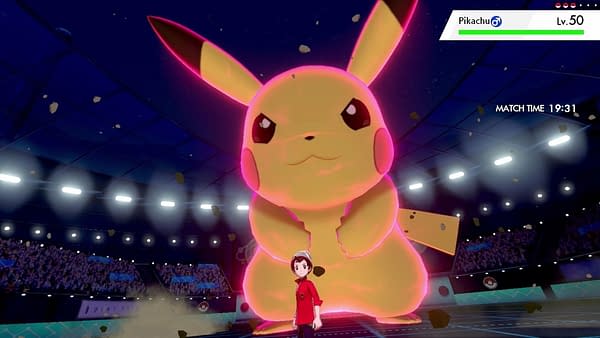 Unfortunately, it isn't clear just yet whether players can challenge all 18 Gyms in a playthrough. Typical Pokémon routes include just 8 Gyms to power through, With that in mind, it's likely the core game won't change very much. But if you need some help getting your party fighting fit for battle, you may find it easier this time around. The new games won't include an EXP Share item. Instead, they'll give out experience to all six Pokémon in your party automatically.
The Game Informer feature story also revealed that there won't be any HMs in this adventure. Previously, Pokémon Sun and Moon did away with these items as well. According to planning director Kazumasa Iwao, the team "didn't feel it matched the concept."
"The player can kind of choose how they want to engage with the gameplay," said Iwao. "Having the more HM-based elements, we didn't feel it really matched the game, so this time around they're not in it."
Players will also find another interesting feature when starting their Pokémon adventure. Autosave will be available everywhere in the game, but as an optional feature only.
"It's a new feature we're implementing: full auto-save functionality," said director Shigeru Ohmori. "Traditionally in Pokémon games, it's an important thing to write your report to record your save, and that's always been a staple, like, 'Remember to save your game!' We do have an autosave feature this time, where you can just adventure and it'll constantly save the game."
While there are a variety of new features coming to Pokémon Sword and Shield, it looks like they'll be an expertly-blended mixture of new and old. We'll all be able to get our hands on the new Switch-exclusive adventures when they debut on November 15. Get your Poké Balls ready.