Power Rangers fans: Imaginext is coming out with the Megazord of your dreams! Hitting stores this summer this version of the Megazord is perfect for all ages. It features lights and sounds, cannons, tons of power coins, rooms galore on the back, and playability for days. It even includes Red Ranger and Black Ranger figures. Their giant figures have been pretty awesome, including their Batman Batbot. Their stuff is always durable and well worth the money (at least in my experience). You can preorder this big guy here right now.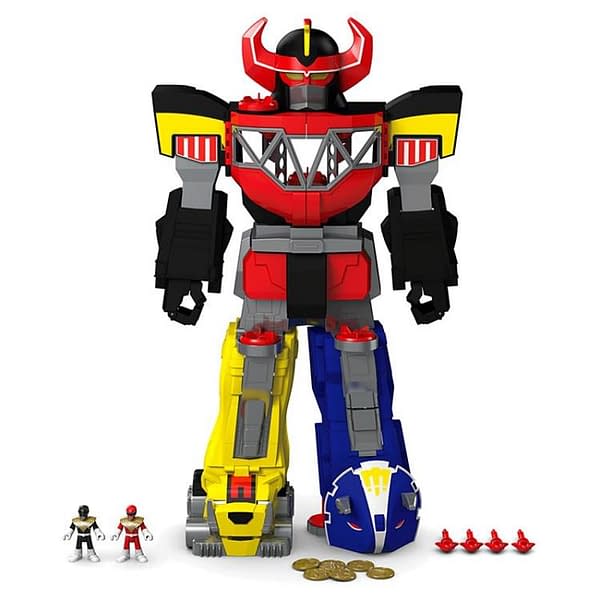 Unleash the fire power of the Imaginext Morphin Megazord on Power Rangers villains like the Putty Patrol! It all starts with exciting Morphin Action. Turn the Power Pad on Megazord's left shoulder for an awesome transformation — his chest opens, his eyes light up and his chest "morphs" into a cannon. Under attack? Push a button on the cannon to fire Power Missiles. Turn a Power Pad in Megazord's chest to launch Power Coins. Turn a Power Pad above his left knee to reveal a projectile launcher —and push the button to fire more Power Missiles! And turn the Power Pad above his right knee to morph Megazord's foot into a chomping sabretooth!

The adventure continues on back, with a jail cell, a place to meet with Zordon, an elevator — and lots of levels and platforms for figures to stand on. Kids can even place a figure in Megazord's head! With so much to do, imagine the adventures your little fans will create (or recreate) with their favorite Power Rangers characters and villains!

Product Features

Made of plastic
4 Activation Power Pads let kids control the action
Chest opens, eyes light up, and cannon pops out
Back of playset features jail, meeting area, andelevator
Multiple levels and platforms for added play
Figure fits in back of Megazord's head

Box Contents

Megazord playset
Red Ranger figure
Black Ranger figure
6 Power coins
9 Power missiles
Enjoyed this article? Share it!