Review: "Theros: Beyond Death" Booster Box – "Magic: The Gathering"
Hey there! So, a box came into my possession a couple of days ago, and I wanted to inspect it and talk about it with my loyal readers today.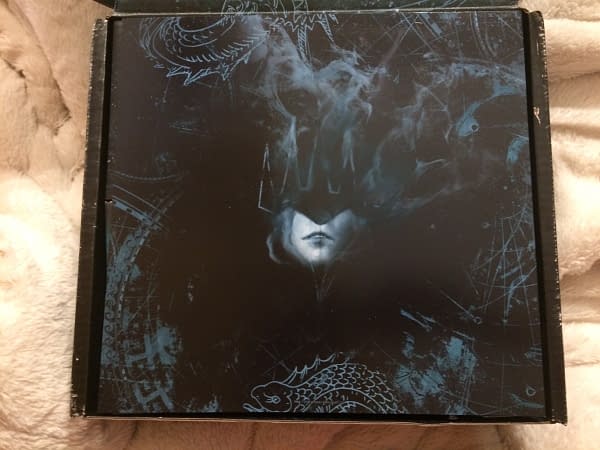 So, this box, a gift from Wizards of the Coast for being a member of the reviewing press, was similar to the one I received with the release of Throne of Eldraine, the 82nd set from the acclaimed card game Magic: The Gathering.
The contents were similar as well. Inside the box was a booster draft box, a bundle, and a set of both Planeswalker Decks, all from the newest set, Theros: Beyond Death.
Before I go into the review any further, I want to note that there is no Buy-A-Box promo with this package. There hasn't been one, historically, so anyone who actually buys a booster box of Theros: Beyond Death will have it better than me here.
As for the booster box, let me just say that not all booster boxes in the set have the same level of luck to them. That having been stated now, among all 50 of the packs that came with this package (36 in the booster draft box, ten in the bundle, and two in each planeswalker decks), I got a resounding… Four mythic rare cards. That is about a 1:12.25 rate, which is over 1.5 times worse than the average, one-in-eight rates.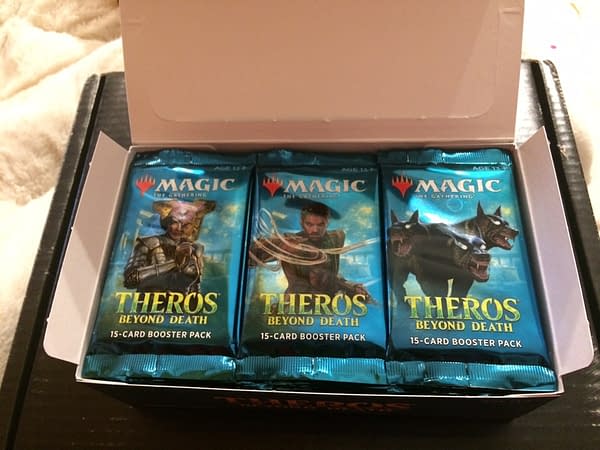 And I don't mean to gripe or complain – the package was a lovely gesture from Wizards of the Coast and I greatly appreciate it on behalf of all of Bleeding Cool – but I was very surprised that there were so few chase cards in it. I was happy to see most of the cards I was actively looking for, however. I got my copy of Underworld Breach, and a Kroxa, Titan of Death's Hunger… And another Kroxa. Yeah, that's right – half of my mythic rare cards are the same card. For a Commander-primary player, that's honestly a bit of a feel-bad moment.
Anyway, the odds are that you will get between five and six mythic rare cards in your average booster box, so don't take my personal experience as the be-all, end-all for the chances of a card like Uro, Titan of Nature's Wrath or Elspeth, Sun's Nemesis.
At the bottom of the box, I got this cryptic message as well…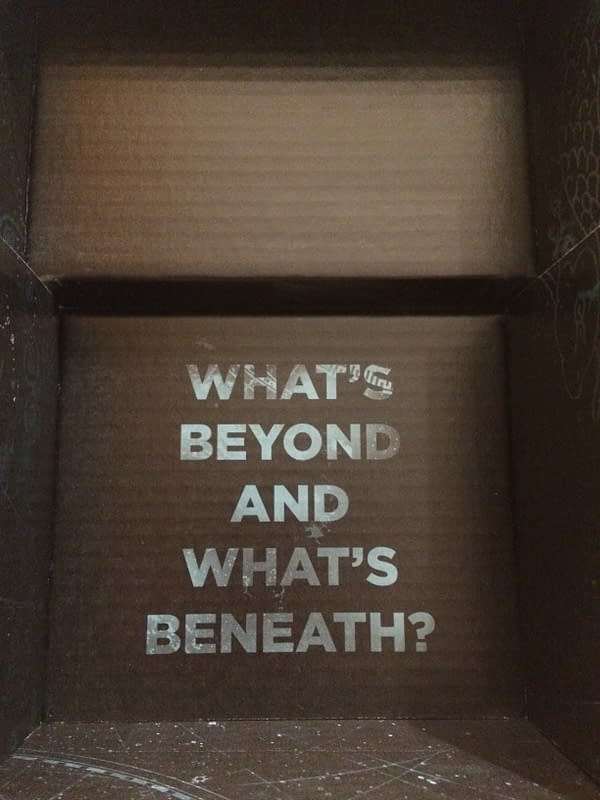 I don't think that Wizards of the Coast would pull a Cards Against Humanity moment, so I decidedly won't be digging in the cardboard of this box for anything else, but I liked the little quip.
Have you ever gotten a booster box of Theros: Beyond Death? What were your mythic rare card pulls? Let us know!