This Animal Crossing: New Horizons Player Recreated A Pokemon Battle
Animal Crossing: New Horizons players continue creating all kinds of fun, inventive content in-game, and it's always super impressive. This time around, Redditor The-Nooksters made their own unique Pokemon battle using assets from Animal Crossing and some very sneaky video editing. It really has to be seen to be believed. Two villagers are seen engaging in a battle: Stinker and Seabass, and they send out their animal neighbors into battle. The whole thing even begins the way a regular trainer battle would when you're playing a Pokemon game. One trainer is even outfitted to look just like Ash Ketchum. Seabass is kitted out to resemble Gary.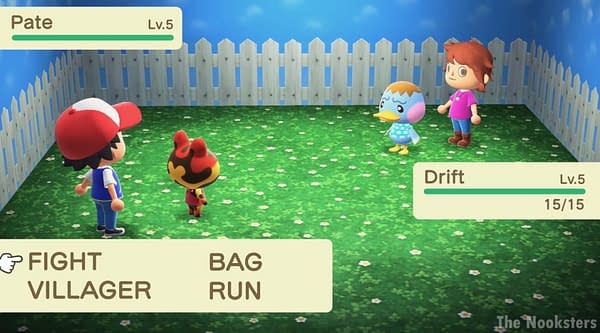 The villagers take turns using basic moves like Tackle and Growl, so this must be quite early in the game, like when Ash is about to leave Pallet Town. This kind of video always features such a slick presentation, you wish it were an actual option or mode in one of the franchises.
Animal Crossing has seen quite a few parodies and creative pieces of content made throughout the last few months. Someone even created a Zelda-centric map in the game, which looked just like the original game. With how many different abilities and items there are in Animal Crossing, the possibilities seem almost infinite. Still haven't tried Animal Crossing: New Horizons to see all the fun content? Here's what our own Gavin Sheehan thought about it:
This game was a lot of fun playing this and visiting islands and chilling with my friends. Which was especially comforting as we're writing this review in the middle of the coronavirus outbreak. This is a game where you can simply turn your brain off and focus on things that have nothing to do with the real world. Even though it is based in a stressful situation you may find yourself in the real world someday.
Pokemon Battle but with Villagers [OC] from r/AnimalCrossing