Posted in: Game Hardware, Games, Review, Video Games | Tagged: gaming keyboard, Keyboard, Mechanical Keybaord, Review, Woo-dy
---
We Review The Woo-dy Mechanical Gaming Keybaord
A while ago we were sent a brand new product from a startup company called Woo-dy as they presented a wooden mechanical keyboard. The product actually got its start on Kickstarter and received full funding, allowing them to produce a run of these for people looking for a design that fills a couple of different boxes than your standard keyboard. We were given one for review to test out and see how well it works.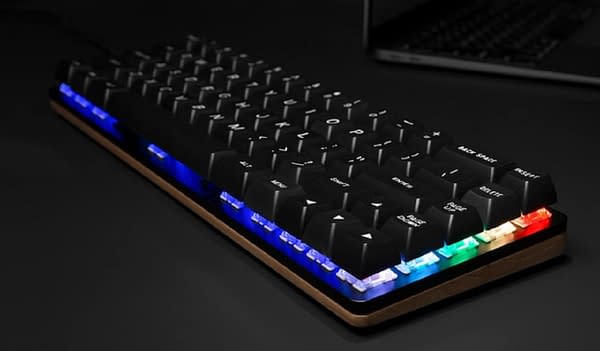 So first and foremost, let's look at the design. The reason we're referring to this as a gaming keyboard instead of just your standard run-of-the-mill mechanical keyboard is that the designers, for whatever reason, went with a setup that's more conducive to esports keyboards you see these days. There is no number pad, there's no media controls, there's no specialty buttons or function keys. Along the bottom row, you have a "Win" button to serve as the Windows/Command key on the left, and an FN button to serve for Function options on the right. But that's it. Everything else is bare-bones needed in a much more compact look.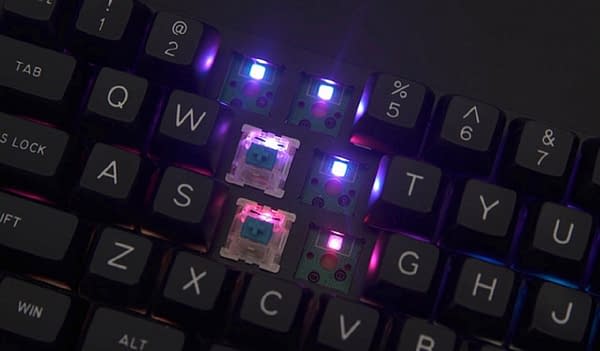 The keyboard is designed with wooden base under RGB backlight, with a 67-key compliment that makes it look pretty compact. All of the keys are lit up through a series of lights for each individual key. But unlike some designs where the light is built-in as part of the key, this design has the lights functioning independently as their own board underneath. What's more, it's programmable and hot-swappable, allowing users to customize the layouts, shortcuts, and switches for their preferences. The ergonomic keycap design to this was thrown in to help make typing more efficient while also providing a more comfortable touch. It works well for people who don't have a ton of space and often work in the dark, but it also makes the keyboard very portable so you can basically take it anywhere you'd like.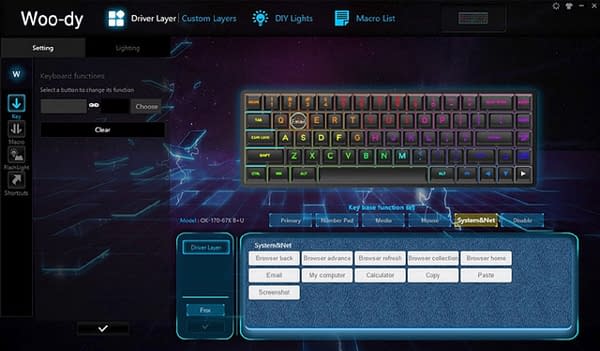 The keyboard is compatible with Windows, Mac/iOS, and Linux systems, and comes with an interface that works a lot like the ones Logitech and Razer use for their systems. As you can see from the image above, you can basically design and program this thing out however you wish. It may not have all the grand design options their well-known competitors have, but if you're not looking for a lot then this works just fine. Especially if you decide to program it for gaming as you can color-code the keys however you wish on a couple of profiles to fit the game you're playing.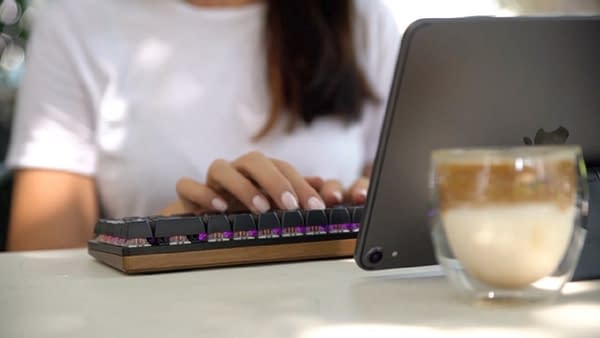 This keyboard can be connected through wireless Bluetooth or USB Type-C cable, which you'll use to charge it. One of the main aspects of this is that you can link it up with basically anything that will allow a keyboard interface through Bluetooth. So we played around with it on an iPhone, a iPad, the Xbox One, and a few other devices beyond my main PC. The connection may take a couple of tries, but when you do eventually like it up, it works fairly well. We will say that there are times you'll be typing and you may lose connection briefly and some of what you typed doesn't appear right away. But that's honestly a risk you run with a lot of wireless keyboards.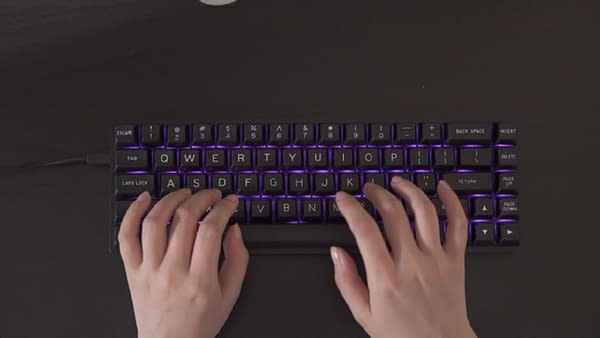 Overall, we really dug this mechanical keyboard and what it had to offer. The design is meant for people who love a compact touch and a bit of the wood finish to it. It feels like a keyboard that should have come with an Atari if the tech was at that level. As for the price, you're looking at $100-210 depending on the features you want from it. It does the job well, but if we're being completely honest, outside of the compact nature and the design, there's nothing super special about it. It's a different flavor of keyboard depending on what you're looking for.
---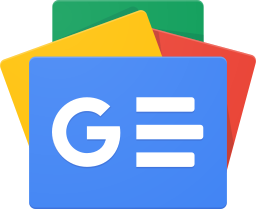 Stay up-to-date and support the site by following Bleeding Cool on Google News today!