Worlds XXVI, Day One: Dominguez Vs. Mengucci – "Magic: The Gathering"
Javier Dominguez, reigning and defending Magic: the Gathering World Champion, took on longtime friend and colleague Andrea Mengucci during the Day One events at the 26th Magic World Championships in Honolulu, Hawaii.
Javier, having drafted a Golgari (black/green) Draft deck with some very tough decisions regarding inclusions, took on Mengucci's rather exquisitely-sculpted Orzhov (white/black) deck.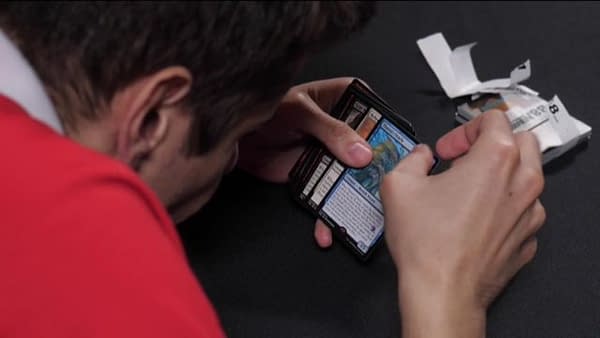 Mengucci, no stranger to Draft or the professional Magic scene, did put up one heck of a fight, but in the end, Dominguez got the better of the scarfed scamp.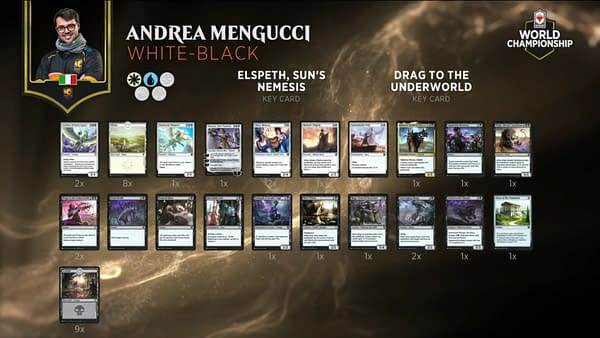 Note that, in the above decklist, the two copies of Archon of Sun's Grace are actually copies of Archon of Falling Stars. There was an error in the listing of this list on the logistical part of the Wizards of the Coast reporting team.
Some highlights from the match-up:
During Game One, Javier Dominguez quickly disposed of Andrea Mengucci with his Golgari (black/green) draft deck.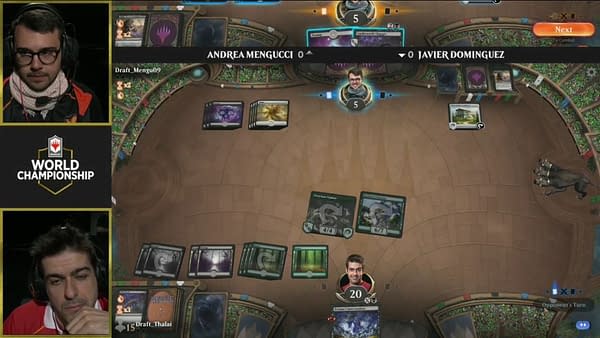 Mana screw hit Dominguez During Game Two, proving that mana issues can affect the very best of us. Meanwhile, Mengucci's Orzhov deck didn't even go below twenty life.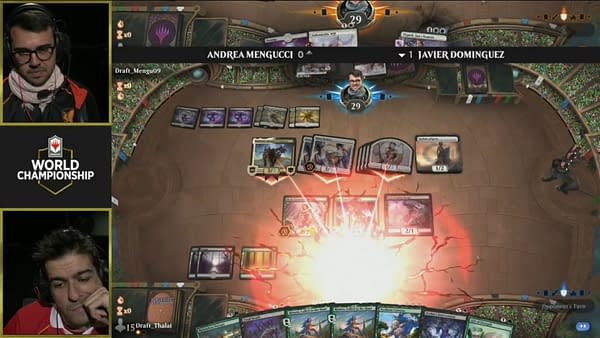 In Game Three, Dominguez took Mengucci down in a very similar fashion to Game One, with Mengucci this time unable to remove most any of Dominguez's creatures, lacking in black mana and thus nullifying the ability to cast a copy of Drag To The Underworld.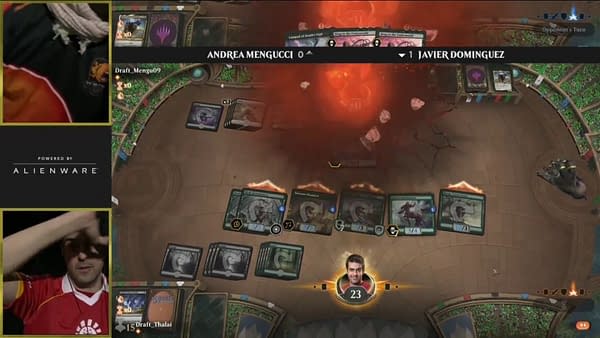 Today, Javier Dominguez took Andrea Mengucci down in Draft on Day One of the 26th World Championships in Honolulu, Hawaii. It's going to be a long road, but Dominguez makes this look pretty easy. Congrats on this minor victory, a small step towards continued greatness for the reigning World Champion!