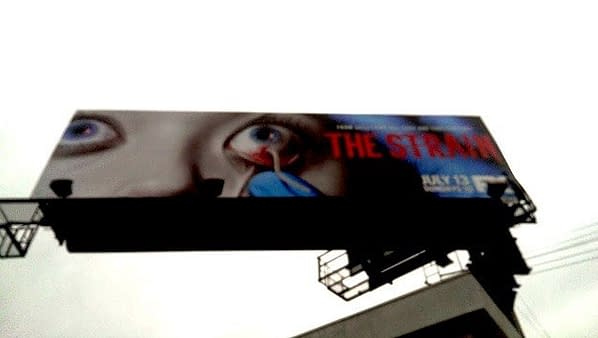 That above (via Buzzfeed) is the disgusting billboard advertising FX's The Strain that's been popping up and ruining the commutes of Los Angeles drivers everywhere…
Well, all the Twitter complaints have been heard and FX will begin to take some of them down. Hashtag activism at work!
Billboard for "The Strain" or whatever that godforsaken thing is w/ the thing in the eyeball on my street; can I call the Mayor to complain?

— Molly Ephraim (@MollyEphraim) June 24, 2014
I guess NO WORMS CRAWLING OUT OF EYEBALLS ON BILLBOARDS PLEASE was a thing that needed to be said explicitly?

— Dave Holmes (@DaveHolmes) June 24, 2014
Seriously, The Strain? I have to look at your disgusting eyeball billboard when I drive? Are you trying to make me crash and die?

— Kirsten Smith (@KiwiLovesYou) June 22, 2014
Enjoyed this article? Share it!