Learn To Draw Your Very Own Baby Yoda With Lucasfilm
Baby Yoda took over the world last fall after debuting in The Mandalorian. The toys were an instant sellout, the character became one of the most-shared memes on social media, and is just the most adorable thing ever. Lucasfilm understands our insatiable need for content featuring "The Child." With that in mind, and during the times we are all going through, they have posted a neat little video tutorial on their Star Wars Kids YouTube page on how to draw Baby Yoda. The video goes step by step to show you how to draw and color the character to hang all over your home. Check it out below.
Baby Yoda Art Is The Best Art
"The Child from The Mandalorian has stolen hearts all over the galaxy, and Sara teaches you how to draw your very own! Cuddle up with some bone broth and a soft robe and learn to draw the adorable baby." Baby Yoda has indeed stolen hearts, that is for sure. Boy did Lucasfilm need something like "The Child" as well. After the divisive nature of the sequel trilogy of films, The Mandalorian was universally loved by all Star Wars fans. No matter how you felt about the new movies, it cannot be denied that they caused a fragment in the fandom that many, myself included, didn't think could be repaired. That all changed when Dyn Djarin opened up that cradle, and Baby Yoda was lying there. For the next eight weeks and since every appearance of the character helped unite the fandom.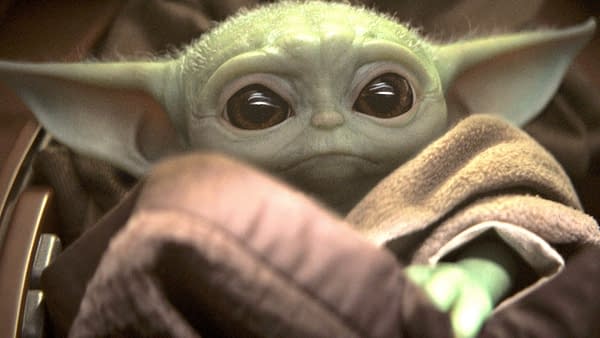 Toys Are Starting To Hit As Well
The figures and plush from various companies are starting to hit stores and online retailers as well. Baby Yoda interactive figures and plush in al shapes and sizes have been popping up in stores over the weekend, and are sure to fly off shelves as fast as they are put on them, even in this environment. Earlier this year, the Funko POP vinyl figure hit stores like Hot Topic and sold out in minutes. Hasbro has the first figure coming to retail any day now. If you like Baby Yoda, now is the time to grab one if you can.