Batwoman/LOT, Masked Singer, South Park & More: BCTV Daily Dispatch
Dead I am the light/Dig into the skin/Knuckle crack the bone/Twenty-one to win/Dead I am the dog/Hound of hell you cry/Devil on your back/I can never die/Dig through the ditches and burn through the witches/I slam in the back of my Dragula/Dig through the ditches and burn through the witches/I slam in the back of my Dragula… and BCTV Daily Dispatch! With much love & respect to Rob Zombie for "Dragula" (check out the video at the end of the post), welcome back to Bleeding Cool TV's "big tent" look at what we've been doing for the past 24 hours that you might've missed or might want to check out again. We're talking about everything from news and reviews to interviews and opinion pieces- all for your television-obsessed enjoyment. Our line-up of news, opinions & commentary for this morning includes a look at why The CW waiting to renew Batwoman & DC's Legends of Tomorrow isn't a good move, Netflix's Stranger Things 4 drops a whole bunch of preview images, AMC's Better Call Saul makes the case that Nacho's (Michael Mando) doing fine, The CW's The Flash looks to the future (at least preview image-wise), Comedy Central's South Park comes down with a case of "Music Madness," FOX's The Masked Singer missed out on an all-Rudy Giuliani season, and tons more! And then we wrap things up with a rundown of our reviews- this time around, we have USA Network's WWE NXT 2.0.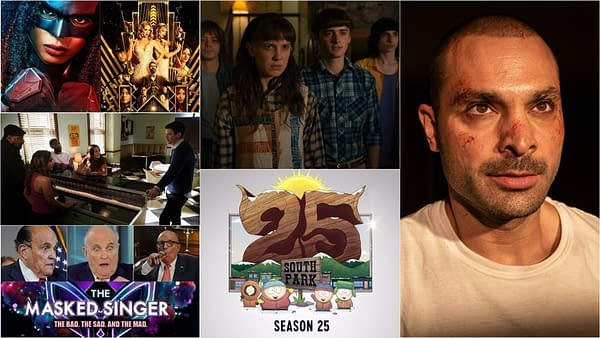 Now here's a look at BCTV Daily Dispatch's articles for Thursday, March 24, 2022:
It's Been 25 Years Since The Greatest WrestleMania Match Ever
Bob's Burgers: Rob Zombie Honored by House of 1000 Corpses Burger
HALO Announcement Teaser Reveals Paramount+ Series Episode Titles
The Masked Singer Season 7 Preview; Clues/Masks Update; Giuliani Watch
The Umbrella Academy Showrunner Posts Let's Make a Deal-Like S03 Tease
Moon Knight: Isaac, Hawke & Calamawy Offer Streaming Series Who's Who
Charmed: Diggstown's Natasha Henstridge Joins Cast in Recurring Role
Colbert & Critical Role Return for Red Nose Day Fan-Voted Campaign
UFC Announces New Multi-Year Partnership With Skillz
South Park Music Madness Kicks Off Fan Vote to Determine Top OG Song
Custom Painted Sailor Moon Sailor Scouts Production Cel Hits Auction
Smackadillas: WWE Opens WrestleMania Delivery Restaurant in Dallas
Nostalgic Nickelodeon Drawing Group Features Doug & Porkchop
Moon Knight Teaser: Marc's Looking A Bit Different; New BTS Images
The Flash Update: S08E09 Phantoms & S08E10 Reckless Images Released
Better Call Saul Offers Season 6 Proof That Nacho's (Probably?) Fine
Gotham Knights Pilot Welcomes Misha Collins as Harvey Dent/Two-Face
Pacific Rim: The Black Releases Final Season Images; Sets April Debut
Stranger Things 4 Entering "Horror Movie Territory"; New Images Posted
Buffy: Amber Benson Discusses Tara's Death, Not Returning for Season 7
Obi-Wan Kenobi: Yes, Ewan McGregor Has "Used" The Force in Real Life
A Very British Scandal: Claire Foy & Paul Bettany Clash In Trailer
Batwoman & Legends of Tomorrow Limbo A Bad Move: BCTV Daily Dispatch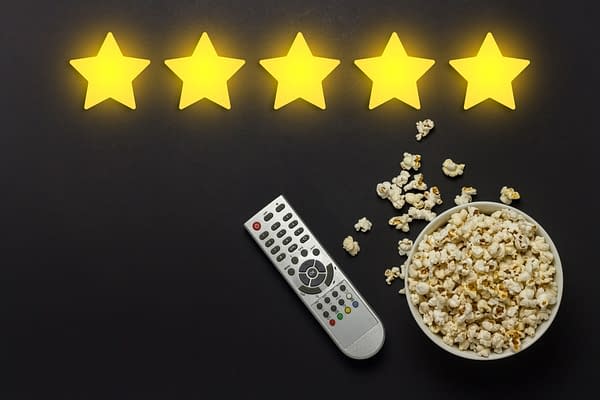 Here's a look at what made our review roster in the past 24-hours- this time, we've got USA Network's WWE NXT 2.0:
NXT 2.0 Recap 3/22: The Women's Dusty Cup Champions Are Crowned

Bleeding Cool TV on Instagram: For all of the stuff too random and bizarre to make the site, make sure to follow us on Instagram: Bleeding Cool TV (@bleedingcooltv).
BCTV Daily Dispatch: For a look at what's going on across the television and streaming landscape, sign up for Bleeding Cool's daily email round-up of the news you need to know here.