Bowie Lives on in New Labyrinth Jareth Statue From Chronicle
David Bowie's iconic portrayal of Jareth in the film Labyrinth is being immortalized in a new high end statue from Chronicle. The statue will have Jareth posed on a throne next to a goblin. The likeness of Bowie is pretty exceptional, and this statue features incredible detail. The hair, the tattered shirt, the boots. They could not have done a better job. This is a 1/4 scale statue, so it is huge, and will retail for $1,249.99. If you place a preorder before 6:00 PM Central on Monday, you can get it for the price of $1,099.99. You can place a preorder here, the statue will ship late in 2019.
Check out pics and details below!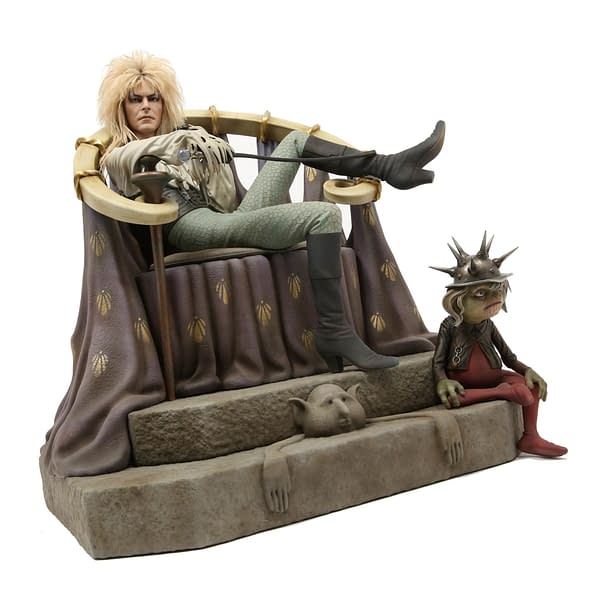 "You remind me of the babe."

Timeless. Majestic. Magical. It's the Goblin King himself. Escape back to the fantasy world of Labyrinth with the world's first officially licensed 1:4 scale statue of Jareth on the Throne!

Chronicle Collectibles is delighted to bring forth this astonishing limited edition 1:4 scale statue. Capturing David Bowie's likeness down to the tiniest details was a challenge we bestowed upon our most skilled sculptors and painters; and they pulled off the most amazing portrait! By working with The Jim Henson Company and their archives, we're ensuring you will never see a better likeness of Jareth in any medium. We have perfectly recreated the moment where Jareth holds court among his goblins right before he bursts into the beloved "Magic Dance" song.

This mixed media statue features life-like hair and an immaculately detailed throne base with a goblin. For years, fans around the world have been asking for a Jareth collectible that seizes the essence of the character. Look no further than this enchanting offering from the skilled artisans of Chronicle Collectibles!

Product Details:

World's first 1:4 scale statue of Jareth
CHRONICLE CUSTOMER EXCLUSIVE: Direct orders from our site will receive an exclusive commemorative print!
Limited Edition
Crafted in polyresin & featuring life-like hair
Meticulously sculpted throne base with Goblin
18" wide, 17" deep, and 19" tall
Estimated to Ship Q4 2019