Captain Marvel figures and merchandise is hitting full throttle right now, and Funko is right there as usual to bring us all of the Carol Danvers we can handle. A full wave of Pops is in stores now, including many versions of Carol, Goose, Nick Fury, Maria Rambeau, and others from the upcoming MCU film. There are plenty of exclusives as well. We got our hands on the regular version, along with the chase variant. Let's take a look at them, shall we?
While the box never changes, the design work does. The blues and reds really make the box easy on the eyes. The regular releases are listed on the back, although I never understand why sometimes Funko will list the full wave plus exclusives and such and sometimes they don't.
First up is the regular Captain Marvel figure. I really do love the suit design for the film, and Funko nailed it. No paint splotching or bleed anywhere, and no weird stray black paint either. Some figures lately have had little black splotches all over them (it has been strange), but Carol does not. With her big hair piece and being a bobblehead you need to use the included stand to get her to stay upright.
The cooler and way easier to stand chase version features Carol in her helmet with one of Marvel's best-looking mohawks on full display. This is one of the most badass Pops in some time. While both versions have their good points, this chase takes the cake as the must-own of the whole wave. I just hope we get a ton of her in the helmet in the film.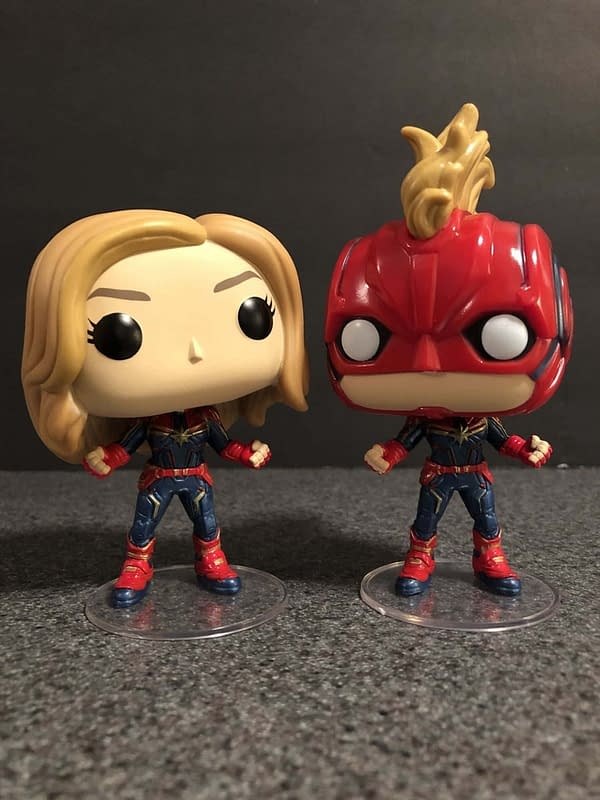 Both of these are worthy of purchase–but if you can track it down, get the chase. They will dry up fast and you don't want to pay secondary market price, no matter what it ends up being. If you want to try your luck, you can order here and who knows? Maybe you will get one.