Marvel Legends is bringing a little slice of New York to SDCC this year. Formally announced this morning, after a leak last week, Marvel's The Defenders are getting a pretty awesome Marvel Legends exclusive box set. Five figures will be included — Daredevil (with a swappable Matt Murdock head), Colleen Wing, Luke Cage (in a red shirt!), Jessica Jones, and Iron Fist in a suit. They will come packaged in a box resembling a New York City subway car, and boy does it look spiffy.
This will first be available at SDCC at the Hasbro booth and a couple other conventions later in the summer (including Fan Expo in Canada). After that, on or around August 13th it will be up on the Hasbro Toy Shop site.
Check out full details of the set, along with pics of the box and figures themselves!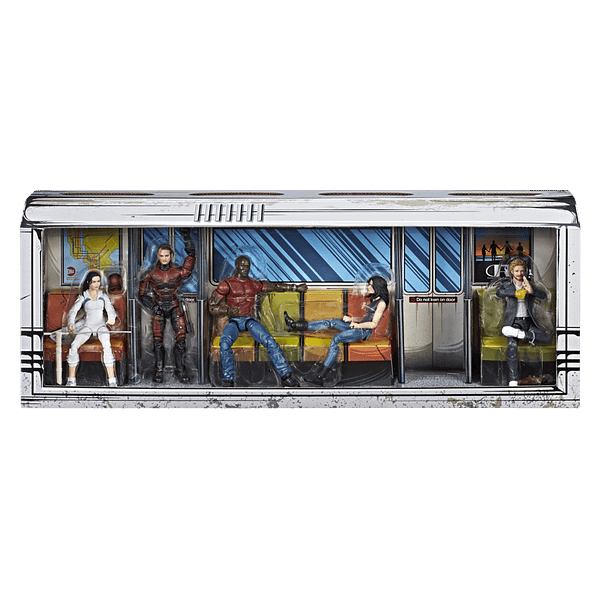 MARVEL LEGENDS SERIES DEFENDERS RAIL AUTHORITY 5-PACK

(HASBRO/Ages 4 years & up/Approx. Retail Price: $124.99/Available at Booth #3329 at Comic-Con International in San Diego)

Imagine JESSICA JONES, LUKE CAGE, DAREDEVIL, IRON FIST, and COLLEEN WING defending New York City with the MARVEL LEGENDS SERIES DEFENDERS RAIL AUTHORITY 5-PACK. Each figure features multiple points of articulation and premium, detailed styling, and comes packed out in an original package designed to look like the underground public transportation of New York City. Includes five 6-inch figures and five accessories. The MARVEL LEGENDS SERIES DEFENDERS RAIL AUTHORITY 5-PACK will be for sale at San Diego Comic-Con 2018. Limited quantities of this item will be available at select conventions and select online retailers after the convention in the relevant market (including HasbroToyShop.com where available). Good while supplies last.

© MARVEL
Enjoyed this article? Share it!