Harry Potter Capsule Toys From YuMe Hit Walmart On July 17th
YuMe is releasing new Harry Potter capsule figures on July 17th, part of Walmart's Collector Con. Right around when SDCC would have been, a bunch of products will be in stores as exclusives that fans otherwise would not have been able to get unless they were at the show. The Harry Potter figures will come in a blind box, shaped like the Hogwarts crest with the contents including a random figure, a fantastic beast, a wand, and three accessories. Harry Potter fans can collect Harry, Hermione, Ron, Luna, Snape, and more. You can check out the full-wave and what they will come with down below.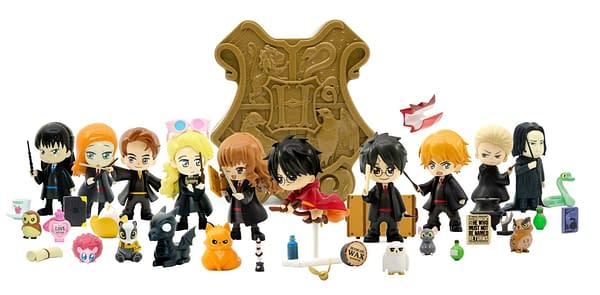 These Harry Potter Capsules Are Adorable
"Shaped to resemble the iconic ​Hogwarts' School​ crest, the ​Harry Potter Magical Capsules​ introduce a new way for fans to show their passion for the ​Wizarding World. ​Inside each capsule are seven surprises, including a character from ​J.K. Rowling's Harry Potter​ series, hidden within a secret chamber. Through an unboxing journey of discovery, fans will use color-coded, heat, and water-reveal mechanisms to unlock the surprise character inside.
There are ten ​Harry Potter Magical Capsules​ to collect in series one with iconic characters such as ​Harry​, ​Hermione​, Ron,​ ​Luna​, ​Snape​ , and many more. Each capsule also includes a wand, a fantastic beast pet, and three other surprise accessories. Each capsule will retail for $9.99. YuMe's Harry Potter Magical Capsules ​will launch as part of Walmart's Collector Con, the retailers initiative to allow fans to continue to build their collections with products normally only available at fan conventions across the country."
These things are so damn cute. At $9.99, a figure very affordable to get a whole set too, as I am sure once you get one, you will want them all. This Walmart Collector Con is something to keep an eye on as well as we get closer to when SDCC would have been.