Iron Spider Is Ready for His Final Battle with New S.H. Figuarts Figure
Iron Spider's return in Avengers: Endgame brought a tear to the eye of many fans. We were all excited to see Peter Parker return as Spider-Man once again. The Iron Spider suit that Tony Stark made and we saw in Avengers: Infinity War is definitely something special. You can bring that Iron Spider suit home with the new SS.H. Figuarts figure coming soon. The suit and design are very detailed and the figure is quite articulated. I figure will come with a Peter Parker face that quite resembles Tom Holland. He even comes with his spider legs attachment and even a Nano Gauntlet accessory so you can show him doing the iconic chase scenes from the movie. He will have interchangeable pieces for his eyes, including one of them including the red eyes for his instant kill mode. He will include a side of web effects to like a Web shot as well as a web he can hang from. From the pictures provided this be a great figure to have him alongside the newest Iron Man Mark 85 figure also coming soon from S.H. Figuarts. This is a must-have a figure for any Iron Spider or Spiderman fan. You should always add at least one S.H. Figuarts figure to your collection.
The Iron Spider Final Battle Edition Avengers: Endgame Figure from S.H. Figuarts is priced at roughly $81. He is set to release in June 2020, and you can find him available for pre-order and located here. Don't forget to check out some of the other amazing Avengers figures coming soon including Iron Man, Captain America, and Rescue.
"I got this. I got this. Okay, I don't got this. Help, somebody help!"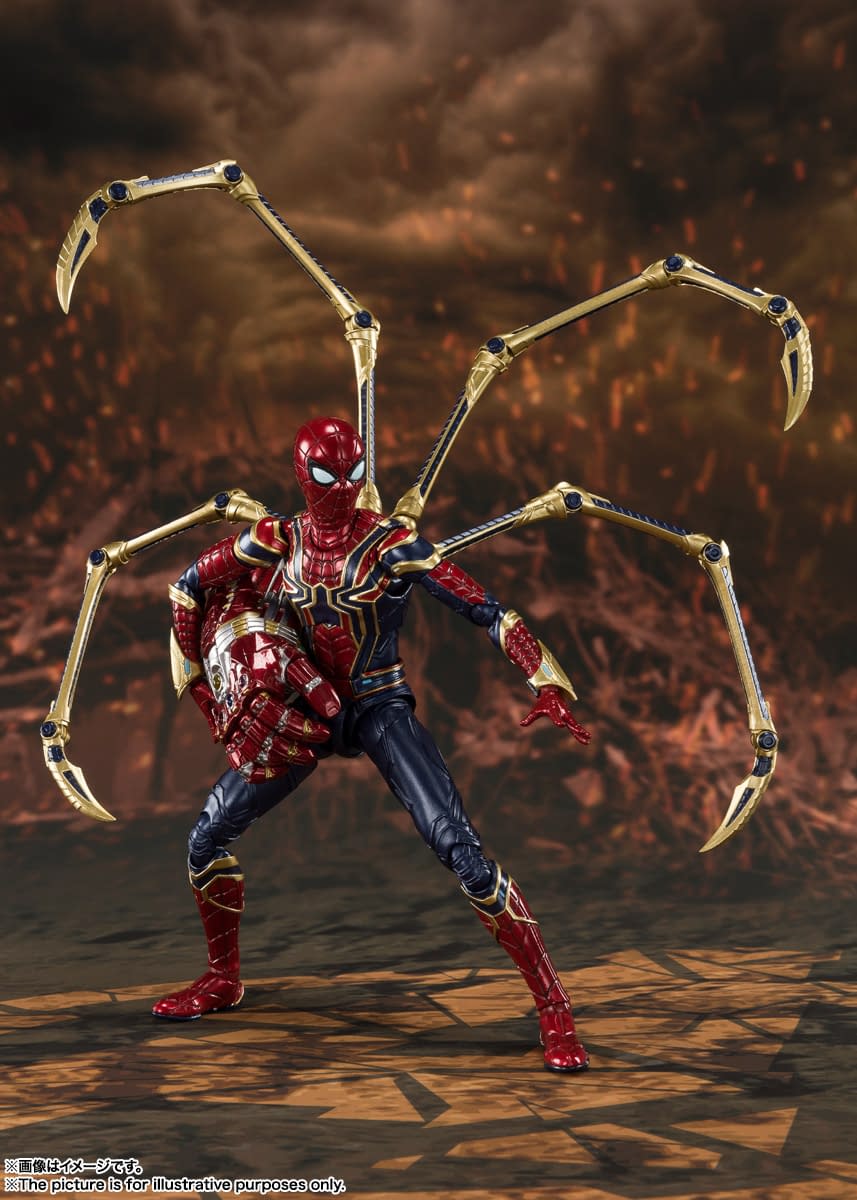 Iron-Spider Final Battle Edition – 8,800 Yen (about $81 USD)
S.H. Figuarts evolved more dramatic!
A young warrior with completely new modeling and various play values!
Throughout the series, a very popular young warrior, Iron Spider, re-appears in S.H. Figuarts after a complete renewal.
In addition to Peter Parker's face parts, Spider Legs, Nano Gauntlet that was the key to the story in "Avengers: Endgame" is also included.

Also comes with Peter Parker's real face parts and red eye parts when "Instant Kill" mode is activated.
Reproduce the scene that was protecting the Nano Gauntlet.
An overwhelming pose in the wide range of motion of the spider leg.
New concept two-handed wrist and web effects.
Product Specifications
Height: about 150mm
Material: ABS, made of PVC
Set Contents
Body
Replacement head
3 types of replacement eye parts
Nano Gauntlet
Replacement wrist left and right each four
Web both-hands wrist
Set of spider web effects
Spider leg set
Joint for TAMASHII STAGE