The Exorcist Lives with the New Living Dead Doll from Mezco
The Exorcist is an iconic paranormal horror called classic from 1973. It is an iconic film that opens up the door for the paranormal and possession interest in Hollywood. Since then we've had a wide variety of scary flicks that you can see were easily inspired by The Exorcist. If you're a fan of the film or a fan of the Living Dead Doll series look no further as Reagan is ready to come home with you. I'm not too sure who would want this creepy little possessed doll but she is still interesting and a collectible. She stands 10 inches tall has about five points of articulation and even has real cloth clothing and rooted hair. The detail In this Exorcist Living Dead Doll it's very unique and slightly horrifying. But I'm sure fans of the film or fans of the whore collection wouldn't mind having this bad girl in their own horror collection.
The Exorcist Regan Living Dead Doll from Mezco Toyz is priced at $46. She is set to be shipped out between March and May 2020. Three orders for this creepy little dolls are already available is located here. Don't forget to check out the other living dead doll characters already available from Mezco Toyz.
"I cast you out!"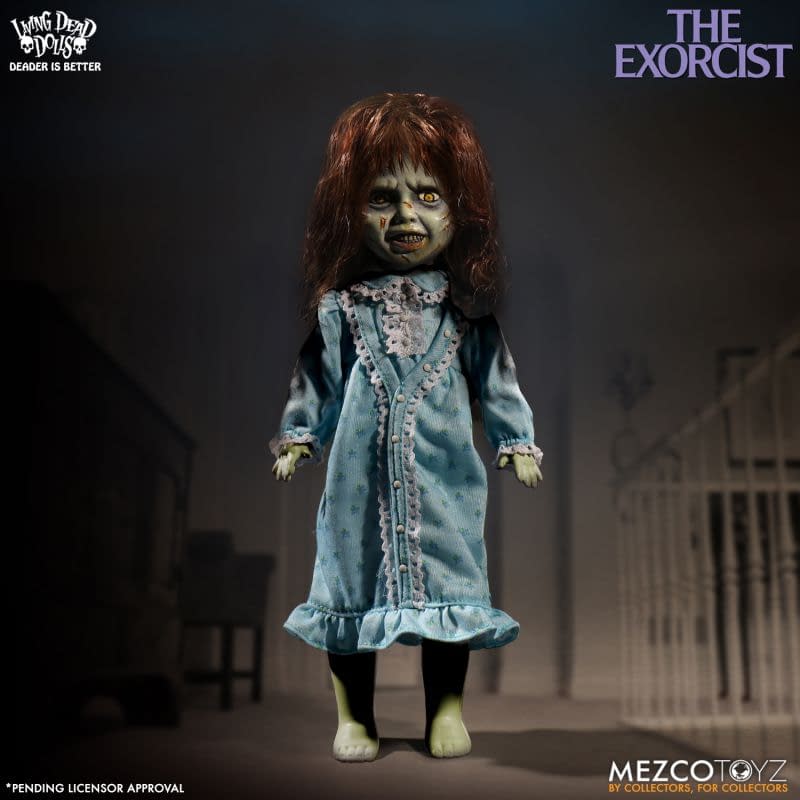 LDD Presents: The Exorcist
Product Description
The Exorcist burst onto the cinematic scene in 1973 and quickly cemented its place in film history as the 1st horror film nominated for an Academy Award. The film tells the terrifying story of the demonic possession of a young girl and her Mother's attempts to win back her child through an exorcism conducted by two priests.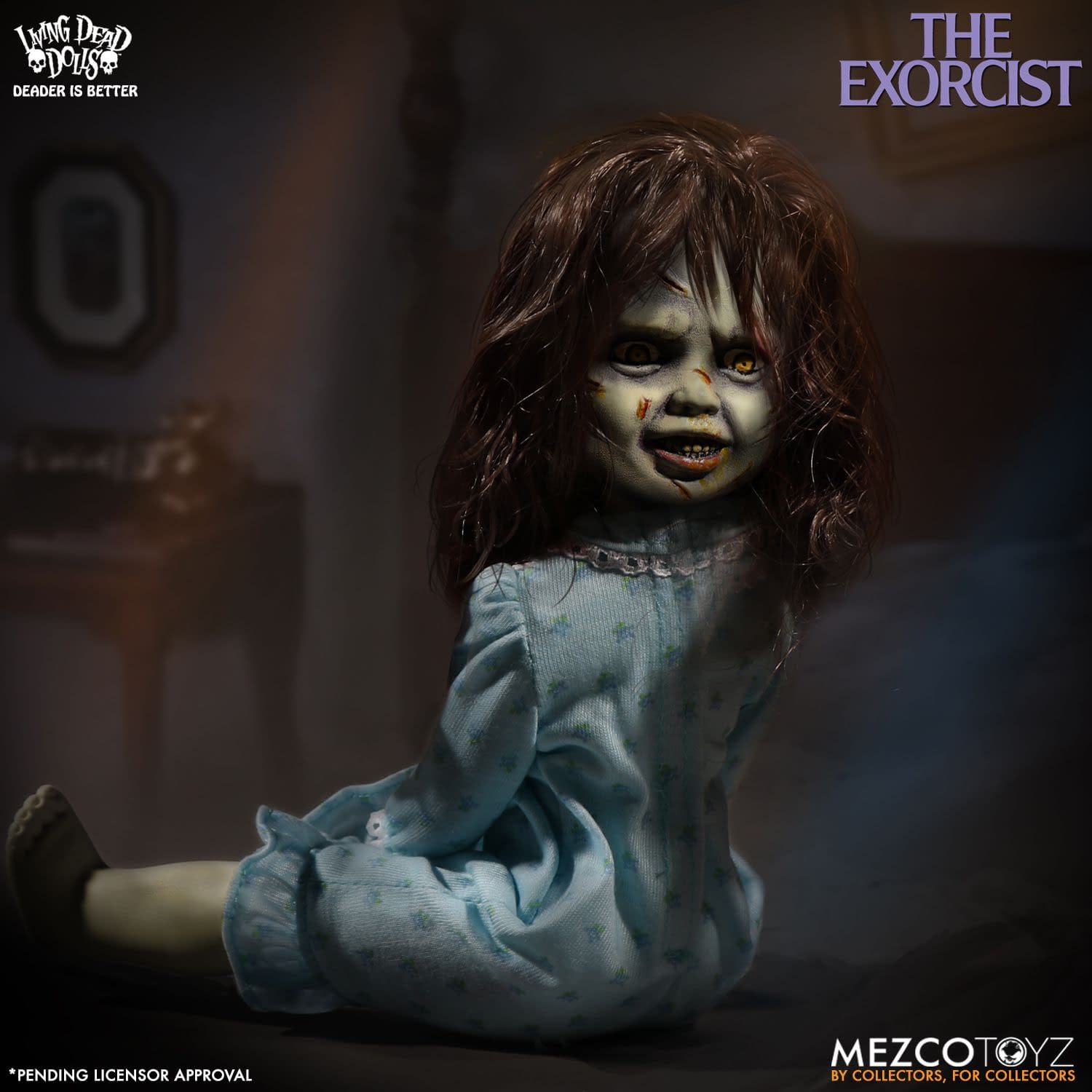 Now The Living Dead Dolls welcome the tormented youth into their family with a new doll that is sure to make heads spin. Based on the groundbreaking FX used in the film to portray demonic possession, The Living Dead Dolls have created an all-new head sculpt to capture the instantly recognizable appearance of the main character.
The devil is in the details and each of them have been captured here; from her wild hair and crazed eyes to her maniacal grin. Not only has her screen accurate floral pattern nightgown been recreated, but the HELP ME inscription on her stomach has been reproduced as well.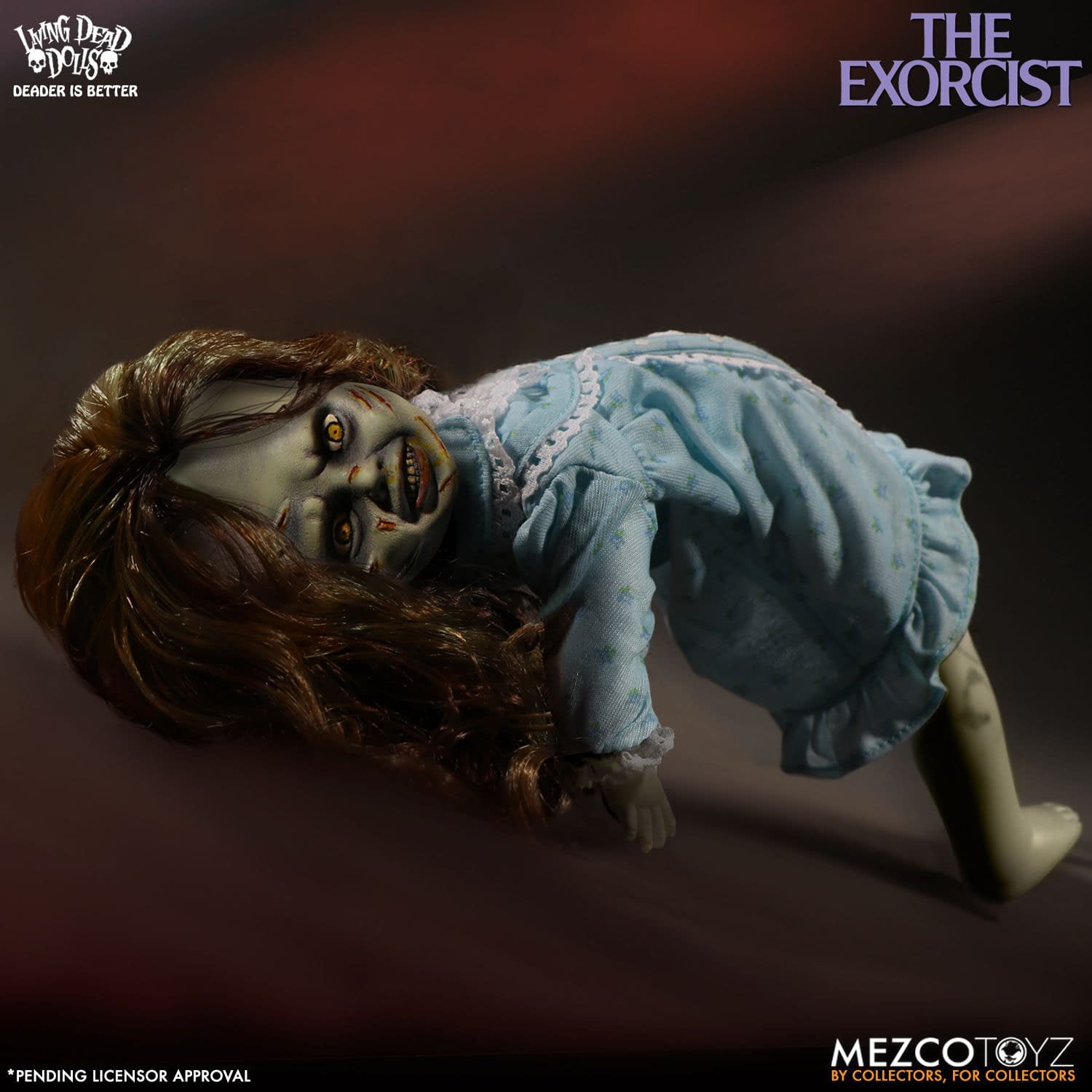 The LDD Presents The Exorcist stands 10 inches tall, has real cloth clothing, rooted hair, and features 5 points of articulation. She comes packaged in a specially die-cut window box featuring graphics from the horrifying cinematic masterpiece.