Let's Take a Look at the Marvel Legends Captain Marvel Figure
Captain Marvel product is hitting full-force right now, and Marvel Legends collectors are scouring the shelves at their local stores for the newest wave of Legends starring Carol Danvers and company. The wave consists of seven figures and one build a figure: Captain Marvel, Captain Marvel in bomber jacket (and Goose!), Talos, Starforce Commander, Grey Gargoyle, Nick Fury (with Goose!), and Genis-Vell. If you collect them all you can build a Kree Sentry. The figure everyone wants of course is Captain Marvel herself, and we got our hands on one to take a look at.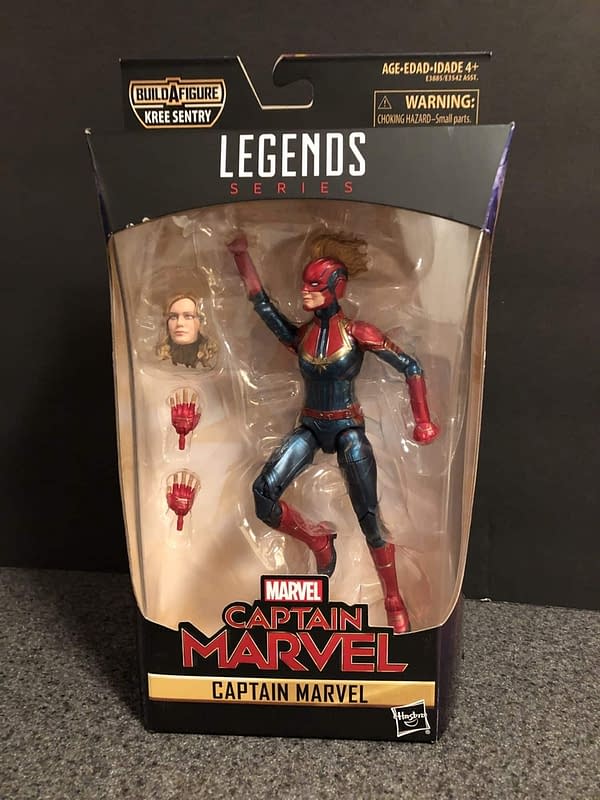 The standard Marvel Legends packaging is still around, and it is still as lovely as always. Big window box in front to show off the posed figure and all the accessories. This version of Carol does not come with a Sentry BAF piece, so there is lots of open space in the package. Those that don't usually collect figures who want a Carol don't end up with a useless leg or arm or such, so good thinking there on Hasbro's part.
This is a great figure, let's get that out of the way. Carol comes with interchangeable heads, one helmeted and one non-helmeted with a great Brie Larson face portrait. She features many points of articulation, and her textured suit really pops in the light. She is super easy to pose, and doesn't fall victim to some of the issues other female Legends figures do with too wide of hips to stand.
The two included pairs of hands allow for some mixing and matching in action poses, which is nice. I hate when Hasbro only gives us one type of hand for the figures, and being able to mix it up with Captain Marvel is nice. Both heads are cool, although I think I like the helmeted version better. There is just something about that mohawk sticking out of the top that makes the figure stand out more. My example has a couple issues with the paint job on the eyes, but not everyone I have seen has that issue. Be sure to check before you buy.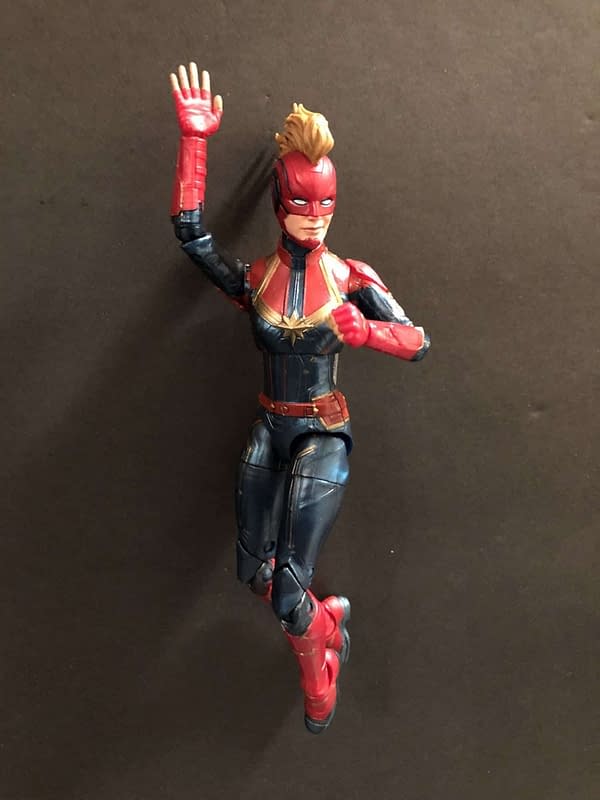 Overall, this is a great figure to add to your collection if you are a long time fan or even just want a Carol figure for yourself. She is showing up in stores right now but disappearing pretty fast, so keep an eye out, or place an online order for one here.